I gets lots of orders for Suri Fiber from doll makers all over the world, that use this natural fiber as doll hair.  This doll's name is Zeina and her reroot was done by Belén de la Morena at DCBE Handmade in Valladolid, Spain.
Not being a doll maker myself, I had to do some research. What I found was a whole new world (that I knew nothing about) and some terminology I had never heard of like Blythe, BJD, and Sad Eyed Susies for starters, all plastic dollies that are being remade, redressed, and having their hair rerooted!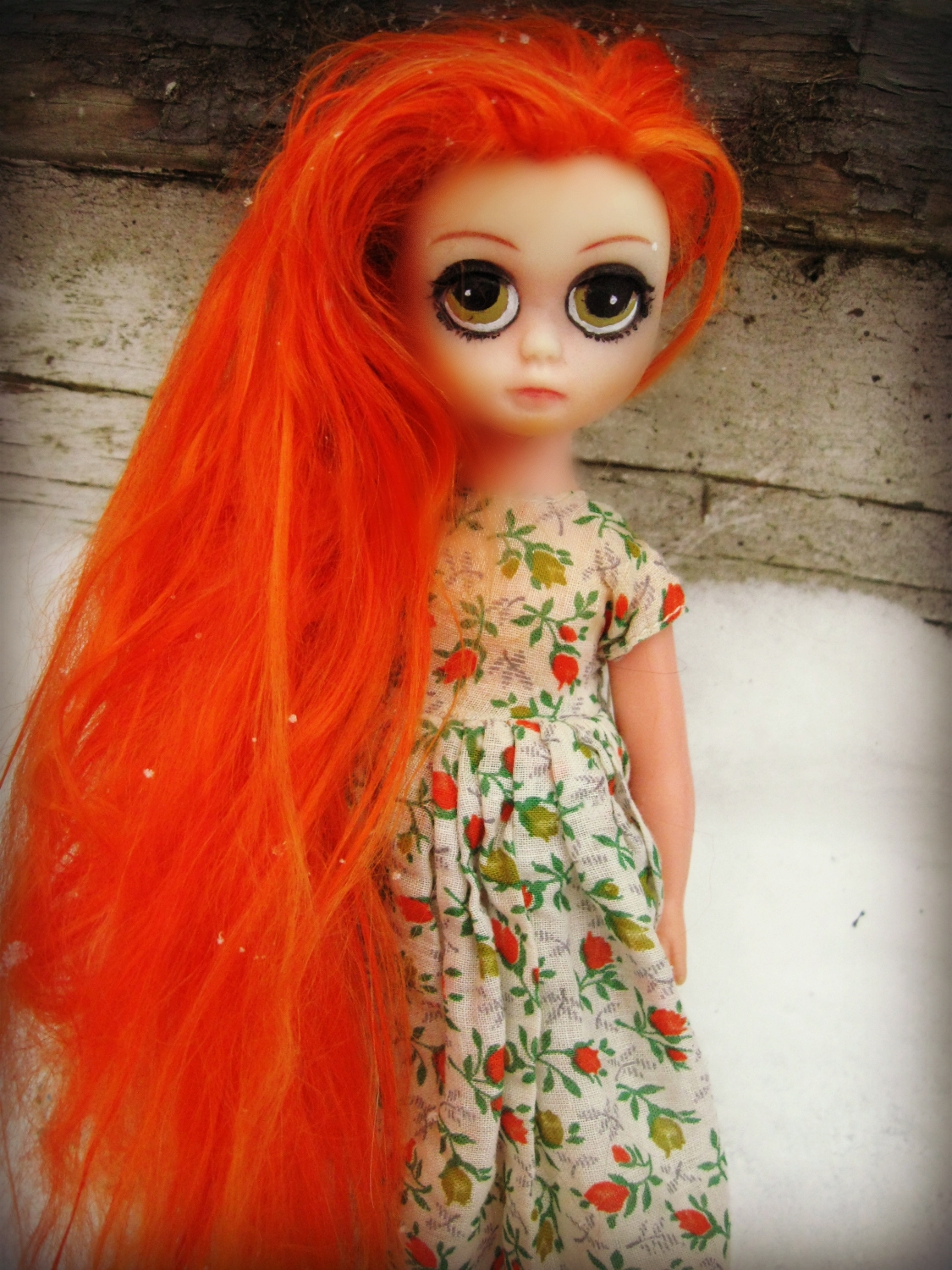 This is an alpaca reroot on a doll done by Cindy Sowers of Burlington, Vermont, using Suri Fiber from one of our alpacas.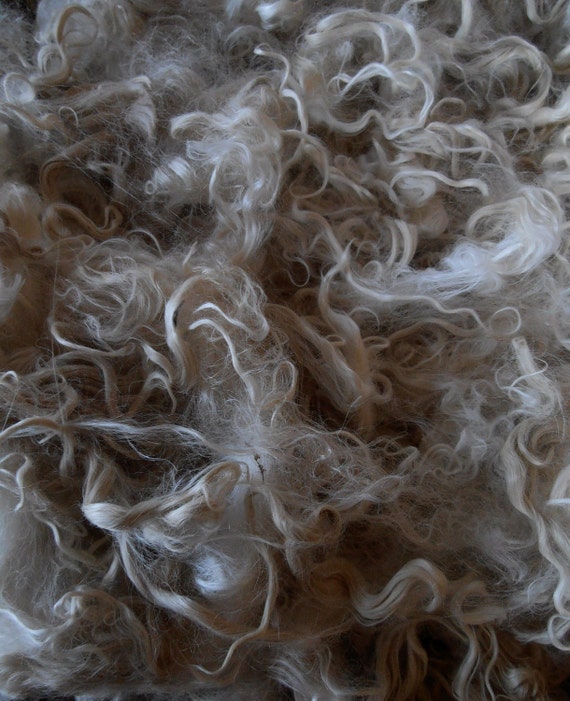 Natural fibers are being used for doll hair to give a unique, more realistic look. There are approximately 22 recognized natural colors of alpacas with many variations and blends.  Light colors can by dyed as seen above, so there are many, many options when it comes to color.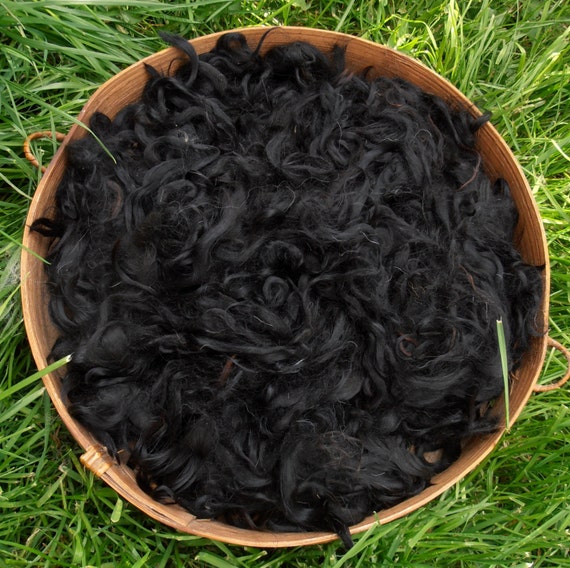 Suri Alpacas have silky and lustrous, penciled fiber that grows in "dreadlocks" which lends itself nicely for use as doll hair.  There are a variety of locks and fiber styles that Suri offers, which gives doll makers variety in hairstyles for their unique, one-of-a-kind dolls.
  The five lock styles currently recognized by suri breeders are tight ringlet, flat twisted, curl, pearl, and straight.
Alpaca is a natural fiber and so it can be styled using a blow dryer, flat iron, or curler, and moderate amounts of heat.  Other styles are created with curlers or braiding.
Alpaca is a great substitution for Mohair since it is finer, easier to handle and is not greasy.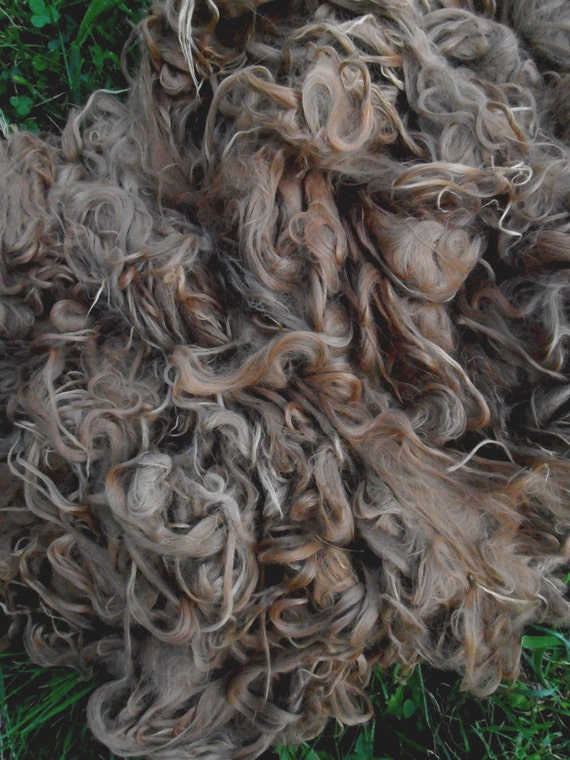 Doll artist Morgan Orton says this about alpaca versus mohair, "I love the look of both, but Alpaca is my favorite. It's fun to work with and creates a really unique look!  I love how clean the lines are, every strand adds to the effect. It's naturally straight but has a kind of piecey, almost edgy look to it if left alone.  Both mohair and alpaca can be styled different ways though, since they're natural fibers they can be heat styled, which is a lot of fun!  Alpaca hair can be styled curly or wavy a few different ways, whether with heat, rollers, or braiding. You can also break up the stringy look of Alpaca hair by brushing it with a boar bristle brush which gives it a really floaty fluffy cotton candy look. The boars bristle because it's made from natural fibers like the Alpaca and will distribute the hairs oils and boost shine. Alpaca hair can get sort of stringy looking, which is a pretty cool look and part of its appeal, but using a bristle brush will help to break it up and smooth it out a little. You can also style your Alpaca hair wavy/curly by "scrunching" it when wet after combing it out, a tiny bit of mousse or other similar hair product can help with this."
Alpaca Rerooted Blythes is a Flickr group with thousands of pictures of dolls that have alpaca for hair!
I  have been amazed at the orders I get for Suri Fiber from doll artists all over the world!  It has been fun to see orders come from the east coast to the west in the United States.  As I scroll down through my sales list, I also see orders from Italy, Australia, Spain, Frances, United Kingdom, Norway, Brazil, Switzerland, Lithuania, Poland, Denmark and Thailand.
Tips for Purchasing Suri Fiber for Doll Hair
Separating Suri Fiber into Locks
Cleaning Suri Alpaca Fiber for Doll Wigs
Be sure to see pictures of dolls using Suri Fiber created by our customers in our Doll Makers – Customer Gallery!
Also coming soon – Combing Suri Fiber for Doll Hair
Doll wigs are made from a variety of different fibers, from natural to synthetic.  Jessica Hamilton shares some very helpful information in her post called What is Doll Hair Made Of?, part of a series on Doll Wigging and Hair.