Doll makers are finding that suri alpaca makes beautiful doll hair!   Purchasing Suri Fiber in its natural form is the most economical way to purchase this silky, lustrous fiber.  There is a huge cost savings if purchasing an entire fleece, but this is usually way more fiber than needed for doll wigs. We offer our suri fiber in small quantities and in several different forms.
Packages of our Suri Fiber have been carefully skirted, tumbled, and washed.  This fiber is ready to be spun into yarn, either carded or uncarded if spinning Art Yarn.  If using for Doll Hair, the locks of fiber will need to be separated.  While it is not hard to do, it does take time.  Some doll makers prefer Suri Locks which are locks of  Suri Fiber that have been separated from the rest of the fleece, one lock at a time.  Suri Locks are more expensive than Suri Fiber because of the labor involved.  See How to Separate Locks of Suri Fiber.  Some doll makers prefer washing the fiber after the wig is complete.  We sell our Suri Locks unwashed for this reason.  Unwashed locks are less curly due to the fiber curling up a bit when washed, and they have less static electricity.
 In the world of natural fiber, there is a unique vocabulary of words you may not be familiar with.  There is some fiber terminology that may be helpful for doll makers purchasing suri fiber for doll hair.
The Terms:
Fiber is the hair of an alpaca.
Fleece is the coat of an alpaca, after having been sheared, but before being processed into yarn or thread.
Micron is the unit of measurement used in assessing the diameter of a fiber.
Micron count is scientifically devised by measuring the diameter of several individual fibers and determining the average. The lower microns are the finer fibers.  The larger the micron count, the courser the fiber.
The textile world generally uses six Grades of Fiber for Alpacas:
Grade 1 Ultra Fine (less than 20 microns)
Grade 2 Superfine (20-22.99 microns)
Grade 3 Fine (23-25.99 microns)
Grade 4 Medium (26-28.99 microns)
Grade 5 Intermediate (29-31.99 microns)
Grade 6 Robust (32 microns and above)

Locks are the natural divisions in an animal's fiber.  A single lock of suri is made up of multiple individual fibers.
Skirting is when fleece is shorn off an alpaca, the blanket or primary fleece is brought to a table where the guard hair and vegetable matter is hand picked from the fiber.
Staple is an independent cluster of individual fibers.
Staple Length is the actual length of shorn alpaca fiber.
Tumbling is when fiber is placed in a machine called a tumbler and, well, tumbled, to removed dirt, dust, vegetable matter, etc.
Vegetable Matter is the little pieces of hay, stray, dead leaves, seed heads, and sometimes burrs that find their home in alpaca fiber.
And now the TIPS:
1.  Be aware that there is a lot of waste when combing out the locks. Be sure to purchase up to an extra ounce for your project, to make sure you have enough.
2.  For whatever reason, the darker colors seem to work well in the higher micron range – 26 microns and up.   The fiber tends to have less static, is stronger for combing, but is still very lustrous and the fibers hang together well.
3.  On the flip side, the whites and lights work better in the finer micron ranges, say 20 – 28 microns.  Finer than 20 microns and the fibers will break.  Over 28 microns, the fiber just looks bad with no luster, the fiber looks coarse, etc.
4.  Lengthwise, the 7″-8″ fiber works the best.  That is just a year's worth of growth for many animals, so it is easier to comb out, has less breakage, and overall has less damage than most of the two year growth animals.  Some doll makers opt for longer fiber, 9″ – 12″.  Though premium prices are charged for this longer fiber, it can be hard to comb out and tends to have more vegetable matter embedded in the locks.  Of course, it is lovely but can be more work.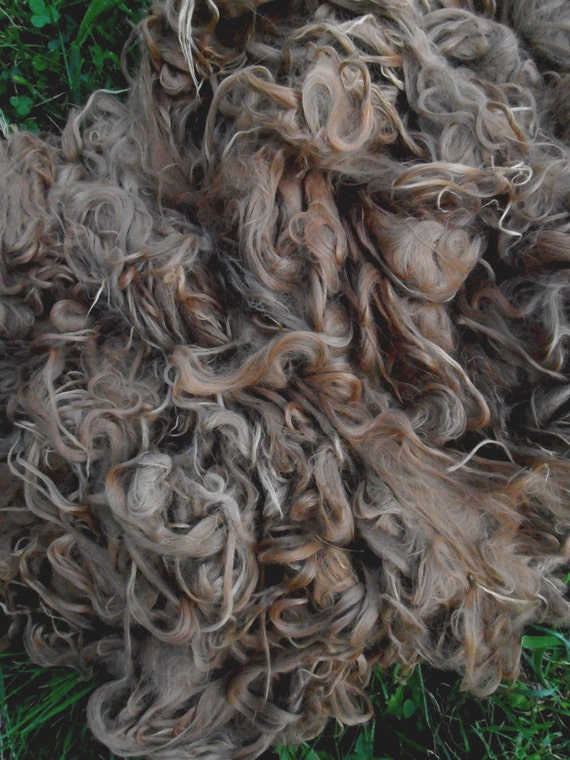 5.  Stay away from fleeces of alpacas that the alpaca owner has shown extensively in the show ring.  This fiber is going to be prone to fiber breakage due to repeated stress and length of time the fiber is on the animal.
6.  Be cautious of first year fleeces.  Again, breakage due to stress of weaning can make the fleece problematic for doll hair.
7.  Buy from an experienced fleece handler who knows the doll hair market.  Many suri farms will offer their fleeces for sale in this market, but only a few will really understand the characteristics needed to make good doll hair!
Thank you to Liz Vahlcamp and my doll maker friends for helping me with this post!
Other related posts:
Using Suri Fiber for Doll Hair
Cleaning Suri Alpaca Fiber for Doll Wigs
Washing and Combing Suri Fiber for Doll Hair
How to Make a Suri Alpaca Doll Wig
Doll Makers – Customer Gallery