Alpaca … warmer than wool, softer than cashmere!
Long Suri Alpaca Locks, Mulberry and Aster, 11 Inches, Chantilly Lace
18151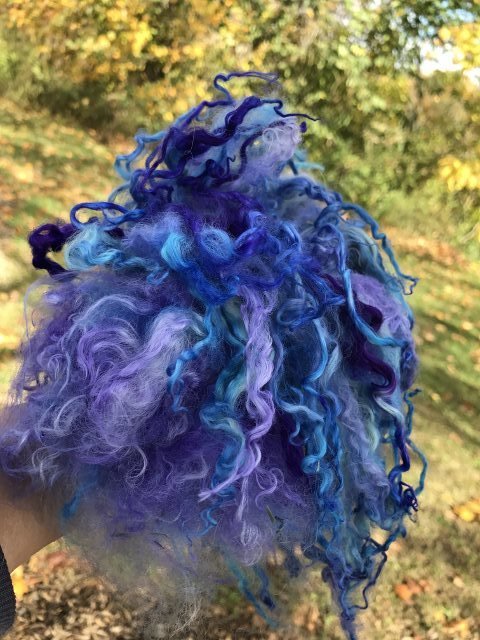 These are natural Suri Locks that have been separated from the fleece, washed, conditioned, and ready to use. Locks are the natural divisions in an animal's fiber. A single lock of suri is made up of multiple individual fibers.
This is the prime fiber grown by a suri alpaca named "Chantilly Lace". The locks are hand-dyed with Gaywool dyes, Mulberry and Aster, and average approximately 11" / 27.94cm in length.
Each package contains two ounces of suri fiber.
Suris have fine fiber, with different degrees of fineness based on the age of the alpaca, nutrition, and environment where the alpaca lives. Fineness is measured in microns and is graded according to this chart:
Grade 1 Ultra Fine (less than 20 microns)
Grade 2 Superfine (20-22.99 microns)
Grade 3 Fine (23-25.99 microns)
Grade 4 Medium (26-28.99 microns)
Grade 5 Intermediate (29-31.99 microns)
Grade 6 Robust (32 microns and above)
This fiber has been sorted is considered Grade 2 fiber.
Locks can be used in tail spinning, embellishment in needle felting projects, as inlays for nuno felting, can be woven with, decorated with, even knit or crocheted.
Doll makers love using suri locks for doll hair. Doll makers love using suri locks for doll hair. Be aware that there is a lot of waste when combing out locks for a reroot. A typical Blythe reroot takes about two ounces, be sure to order plenty so you don't run short. Some of our fiber comes from other farms and we only have a limited amount.
These locks can also be left just as is and sewn into a weft to attach directly onto a doll cap.