FREE Shipping For Orders Over $75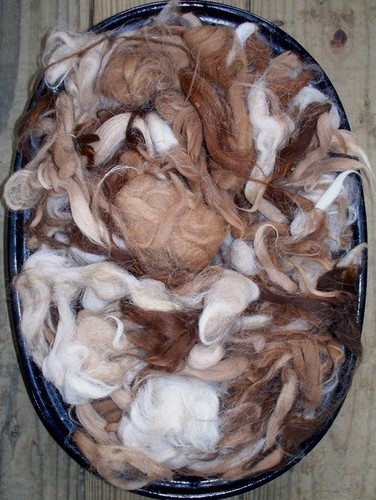 Washed Alpaca Seconds, Natural Colors
SKU AMDWS-00046
Product Details
This package contains a pound or so of washed alpaca seconds in a variety of natural colors. It is raw alpaca fiber, the shorter neck and upper leg fiber, versus the prime blanket fiber. It is still soft and works nicely for felting projects, stuffing dog beds, pillows, and craft projects. It may be a combination of suri and huacaya, solid white, or mixed colors, depending on what we have on hand.

The fiber is still in lock form so if using as stuffing consider pulling locks apart, running through a picker, or carding prior to use, for less bumpy stuffing. Dogs and cats love having their beds stuffed with alpaca!

There may be a small amount of vegetable matter in the fiber, but it will be clean! It should fall out as you pick the fiber apart.
Save this product for later