FREE Shipping For Orders Over $75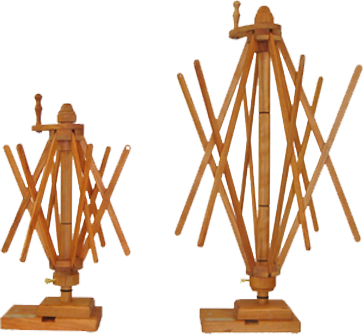 Table Swift/Skeinwinder - Mini
SKU 17719
Product Details
The new Strauch Mini Swift/Skeinwinder has all of the same great features as the standard model, but in a compact size. The length of the swift arms and the center dowel have been reduced, making the Mini:
Easy to pack in a suitcase for travel
Perfect for those with limited reach
Ideal for use in workshops and at retreats
Table model comes with a sturdy clamp
If you already have a Standard Swift/Skeinwinders and also want a Mini, you need only to purchase the Mini umbrella section. It fits into both of our standard floor and table bases.
All of our Swifts are treated with Watco penetrating oil finish. When necessary, they can be cleaned with a high quality liquid lemon oil furniture polish.
1. Collapsible. Unscrew top knob and fold arms together for easy storage.

2. Portable: Unscrew top knob, fold arms and unscrew from base for easy transport.
Top knob and Teflon ring store on the table base so they won't get lost during transport or storage.

Works great with the Jumbo Ball Winder.
Please Note: Our Mini Swift/Skeinwinder will hold a skein up to a maximum of ONE YARD in circumference. The standard size for many commercial skeins is one and a half yards in circumference or larger. If you will be working primarily with these larger commercial skeins we recommend our Standard Swift/Skeinwinder. They will hold skeins up to two yards in circumference.
Save this product for later