FREE Shipping For Orders Over $75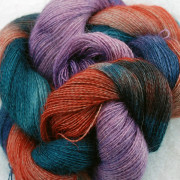 Suri Elegance - Dessert Sun
SKU AYC-5012
Product Details
Suri Elegance is a lustrous, elegant, 100% Suri alpaca, lace-weight yarn from The Alpaca Yarn Company that is perfect for lace projects. Each 100g skein has approximately 875 yards.
When viewed under a high-powered microscope, Suri alpaca fiber most closely resembles silk. Well suited for both knitting and crochet, your lacy shawl or scarf will have a beautiful luster and drape.

The manufacturer's suggested gauge for lace knitting is 7 stitches per inch using US#3 (3.25 mm) needles.
Save this product for later