FREE Shipping For Orders Over $75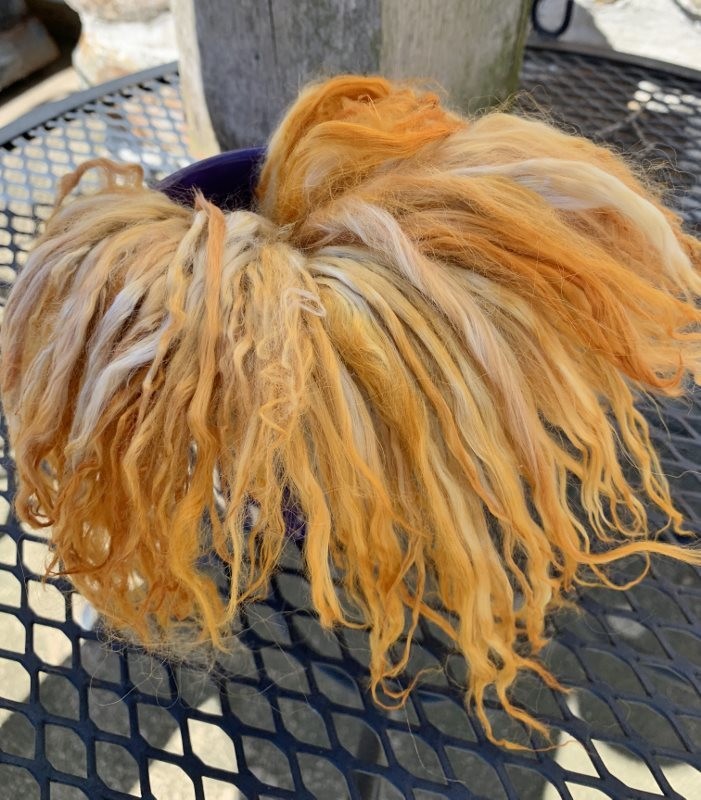 Suri Alpaca Locks, 7 Inches, Pumpkin, Maleenda
SKU 18433
Product Details
These Suri Alpaca Locks are the prime fiber grown by a suri alpaca named "Maleenda". They have been hand-dyed with Gaywool dye using a color called Pumpkin. Suri Locks make gorgeous doll hair. They can also be used in tail or core spinning, carded and spun into beautiful silky yarn, or used in a variety of different felting projects. They also are quite fun to use in knitting and crochet projects.

The locks have been separated from the fleece, so are very easy to work with. They have been rinsed multiple times, though a final washing when your project is completed is recommended. The twisted locks make it difficult to get the fiber completely clean, but the more then are worked with, or combed, the cleaner they become.

Suris have a fine fiber, with different degrees of fineness based on the age of the alpaca, nutrition, and environment where the alpaca lives. Fineness is measured in microns and is graded according to this chart:

Grade 1 Ultra Fine (less than 20 microns)
Grade 2 Superfine (20-22.99 microns)
Grade 3 Fine (23-25.99 microns)
Grade 4 Medium (26-28.99 microns)
Grade 5 Intermediate (29-31.99 microns)
Grade 6 Robust (32 microns and above)

Though not a certified sorter, I would consider this fiber to be Fine.
These locks are sold in two ounce quantities, and rubber banded together in 1/2 ounce bundles.

Doll makers love using suri locks for doll hair. Be aware that there is some waste when combing out locks for a reroot. A typical Blythe reroot takes about two ounces.

These locks can also be left just as is and sewn into a weft to attach directly onto a doll cap.
Save this product for later