FREE Shipping For Orders Over $75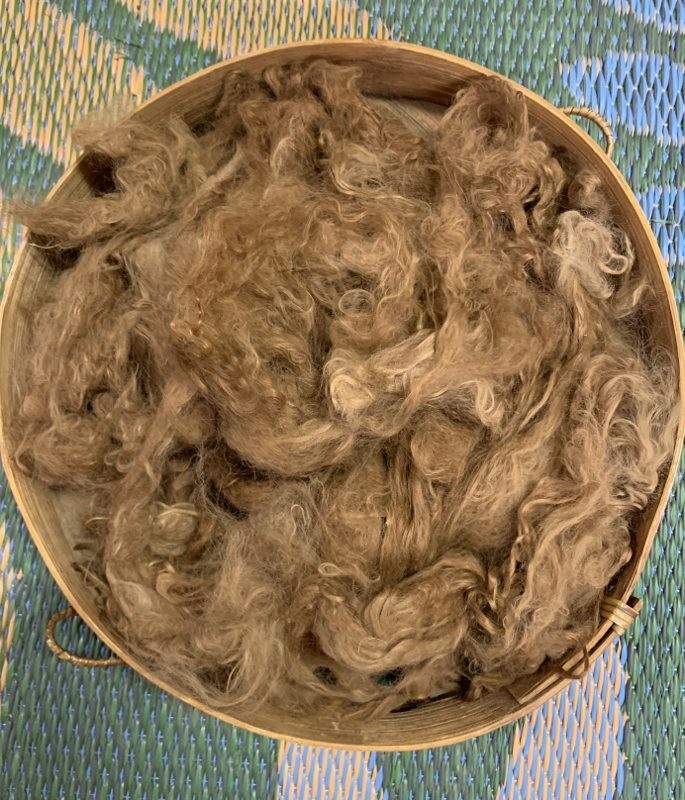 Suri Alpaca Fiber, 8 Inches, Medium Fawn, Abner
SKU 18434
Product Details
This listing is for two ounces of Medium Fawn Suri Alpaca Fiber, grown by a young suri alpaca named "Abner". The fiber has been carefully skirted leaving the prime fiber only, tumbled to remove dust and tiny bits of hay, pre-washed, air dried, and is ready to be used.
The locks of fiber average approximately 8" in length. There may be some fiber shorter than this and some longer.
This fiber has been rinsed multiple times, though you may still have some muddy water with additional washing. Alpacas love to roll in the dirt! You may occasionally find tiny bits of hay in the fiber, alpacas also love to eat! It can easily be picked out, and tends to fall out as you work with the fiber.
Suri fiber can be carded for spinning into a very lovely, silky yarn, blended with other fiber and spun, or it can be spun right from the locks for a textured art yarn. It adds interesting design and texture to felting and craft projects, can be used in weaving, decorated with, even knit or crocheted. Suri fiber also makes wonderful doll hair, very soft and silky.
Suris have a fine fiber, with different degrees of fineness based on the age of the alpaca, nutrition, and environment where the alpaca lives. Fineness is measured in microns and is graded according to this chart:
Grade 1 Ultra Fine (less than 20 microns)
Grade 2 Superfine (20-22.99 microns)
Grade 3 Fine (23-25.99 microns)
Grade 4 Medium (26-28.99 microns)
Grade 5 Intermediate (29-31.99 microns)
Grade 6 Robust (32 microns and above)
Though I am not a certified sorter, I have handled lots of suri fiber and in my unprofessional opinion would consider this fiber to be Super Fine. It would make lovely yarn. It may be a bit of a challenge as doll hair because it is so soft, but certainly would be beautiful!
Each package contains 2 ounces of fiber.
Save this product for later