FREE Shipping For Orders Over $75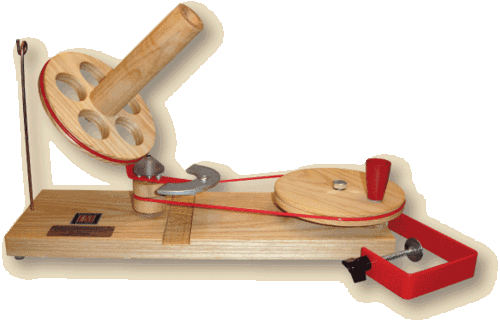 Strauch Jumbo Ball Winder
SKU Strauch-081200
Product Details
Great for winding large skeins or bulky yarns. No oiling or adjusting required. Very high quality! Made in USA.
What Makes the Strauch Ballwinder So Special
Makes a very large center-pull ball - up to one pound of yarn
Great for winding large skeins or bulky yarns
No oiling or adjusting required thanks to a ball bearing drive
Longer counter-weight bracket greatly reduces vibration
15" base eliminates "knuckle-smacking" while winding
Tall, soft rubber feet prevents the winder from sliding and scratching your table
Special drive belt material makes for less slipping while making a ball
Extra long table clamp secures the winder to a variety of table surfaces.
How It Works:
The Strauch winder generates a unique and distinctive diamond-shaped patterned ball as a result of its complex rotation. Two things must happen at the same time in order to wind a perfect ball. The whole drive wheel assembly must rotate as the crank is turned and it must also smoothly revolve on the clear plastic drive cone. Because of this off-center rotation, the ball winder must be clamped to a work surface.
It is important not to wind the ball too fast. Winding too fast will cause the yarn cylinder to slip on the plastic cone and will give you an irregular ball.
The extra long length table clamp allows the winder to be clamped to a standard 1½-inch thick kitchen counter. For those who use a table that does not have a front drop down piece of wood like you find on a typical dining room table, the clamp can reach further under the table to prevent any wobbling or "flapping" of the ball winder base.
Size and Weight:
Dimensions of unit: 15" L x 5" W x 9½" H.
Shipping weight 5 pounds
Storage Box:
Your Jumbo Ball Winder is shipped in a sturdy box. -- Save it. It's a handy carrying case and folds flat for easy storage
Deeper Table Clamp: $28.00
The standard clamp that comes with the Ball Winder fits tables from 3/8" to 2 1/4" thick There is a "Deeper Style" table clamp available that will fit tables from 1 1/2" to 3 1/4" thick.
Save this product for later