FREE Shipping For Orders Over $75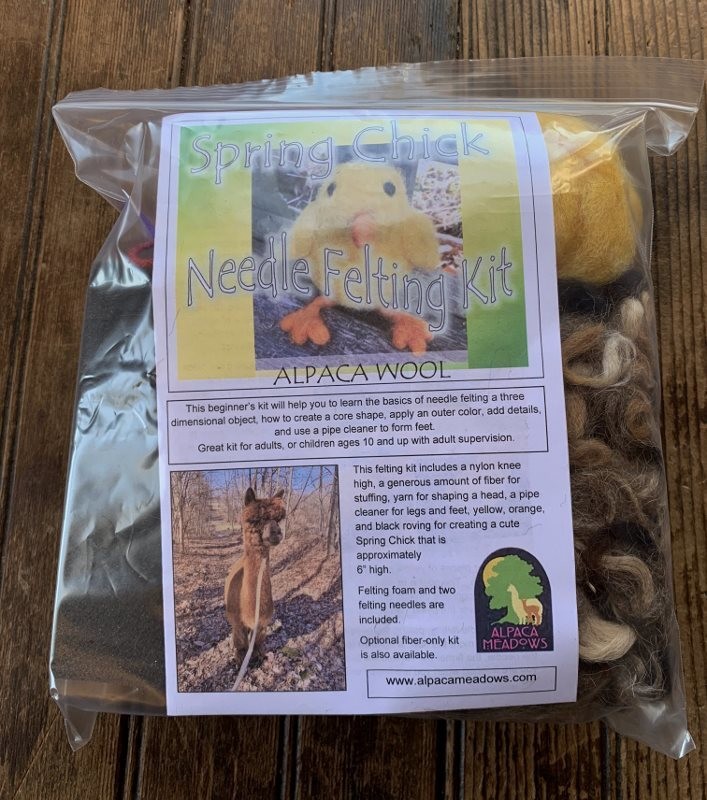 Spring Chick Needle Felting Kit
SKU 18331
Product Details
This Spring Chick Needle Felting Kit includes enough materials to create a chick that is approximately 6" high. Needle felting is a simple and fun craft, no knitting, crocheting, or following a pattern required. When finished with this project, you'll have a cute little chick sure to brighten your day and make you smile, or to give as a gift!
The Complete Kit includes the following:
Stuffing - clean Alpaca fiber (generous amount for stuffing)
Nylon Stocking - to stuff and create core shape
Yellow Roving - to wrap body of chick, wings
Orange Roving - beak
Black Roving - eyes
Dense Felting Foam - 5" x 4" x 2"
Felting Needles - 2
Instructions - Easy to follow, lots of detail, and photographs of each step by fiber artist Julie Petty.
Felting needles are extremely sharp. Children under 10 should have ADULT supervision!
Optional fiber only Supply Pack without foam or felting needles is also available, for those that already have these items.
Great gift idea!
This listing is for the kit only. The finished chick is an example of what your finished project can look like.
Interested in taking a Felting Class at Alpaca Meadows? Click here to see the Class Schedule.
Meet The Alpacas that grow the fiber we use!

Save this product for later