FREE Shipping For Orders Over $75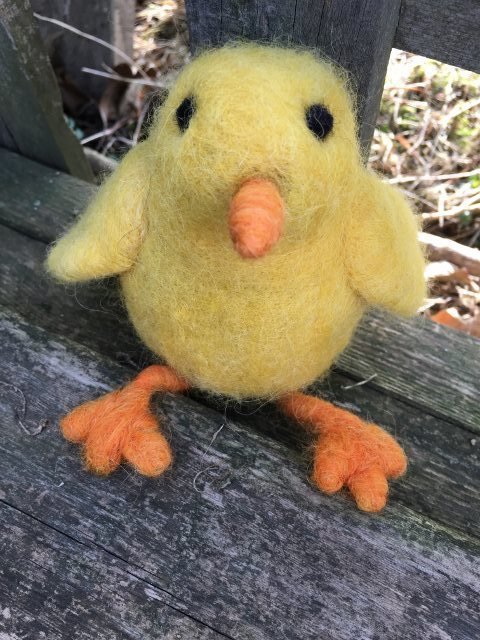 Spring Chick Felting Class
SKU 17884
Product Details
In this beginner's class, you will be learning to needle felt a cute little Spring Chick. No experience necessary. You will learn the basics of needle felting a three dimensional object, how to create a core shape, apply an outer color, create wings on a flat surface, how a felting stick is used, and how to wrap a wire for bendable legs. You can accessorize your chick with a scarf, or perhaps a Spring Bonnet, as time permits. Go home with a finished project by the end of class to add to your Spring decorations, or give to a friend!

Needle felting is the process of using a single barbed needle to repeatedly jab alpaca/wool fibers causing the fiber to tangle and become compact into flat pieces or three-dimensional sculptures. You will learn need techniques in this class that will enable you to make other three dimensional figures as well.
Cost of class includes materials and use of felting tools needed for project. Felting Supplies are also available to purchase should you want to do more needle felting at home.
If registering, for a friend please enter name and email address, then change quantity when you get to the Shopping Cart.

Time Needed: 2 Hours
Be sure to see the Spring Chick Felting Kit, and the Class List here.
Save this product for later