Alpaca … warmer than wool, softer than cashmere!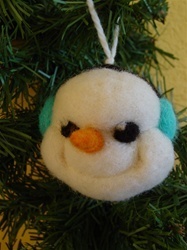 Snowman Ornament Felting Kit
SKU 17843
Product Details
This kit will make a snowman ornament! It includes all the supplies you need to make the cutest snowman to hang on your tree or decorate your house. Directions are available below. It is a quick video that can help you make this great ornament in less than 15 minutes!
Not included but recommended for construction:
Save this product for later