FREE Shipping For Orders Over $75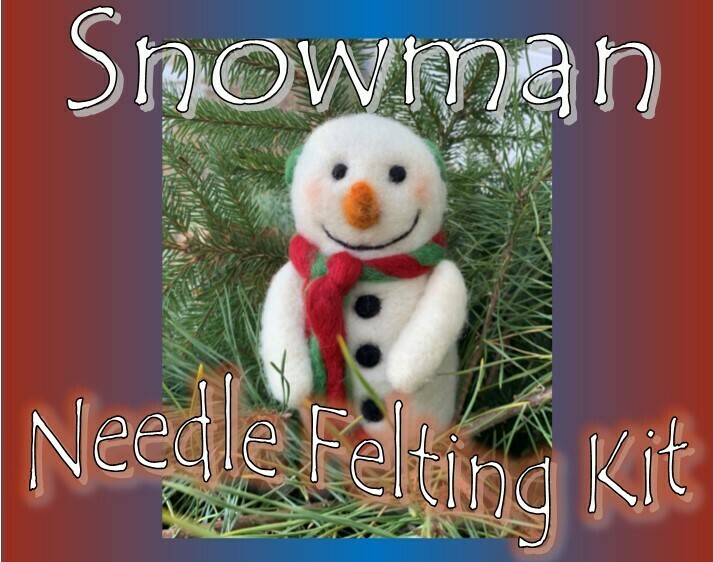 Snowman Felting Kit
SKU 112619
Product Details
This Snowman Needle Felting Kit includes enough materials to create a jolly, winter snowman that is approximately 6-7" high. Needle felting is a simple and fun craft, no knitting, crocheting, or following a pattern required. When finished with this project, you'll have a cute snowman for your Christmas and winter decorating ... some say it is good stress relief too!

This beginner's kit will help you to learn the basics of needle felting a three dimensional object, how to create a core shape, apply an outer color, build arms if desired, create facial features including a carrot nose, eyes, mouth, a winter scarf, ear muffs, buttons, or accessories of your own choosing.

Great kit for adults, or children ages 10 and up with adult supervision. Felting needles are extremely sharp.

The Complete Kit includes the following:

Stuffing - Alpaca fiber
Nylon Stocking - to stuff and create core shape
Yarn - to tie off head
White Roving - for covering snowman
Orange Roving - for carrot nose
Red, Green, Black Roving - for eyes, mouth, button, ear muffs, and scarf
Dense Felting Foam - 6" x 6" x 6"
Two Felting Needles
Instructions - Easy to follow, lots of detail, and many pictures!

Already have foam and felting needles? An optional Fiber Only Kit is also available.

The listing is for the kit only. The finished snowman is an example of what your snowman will look like.

Great gift idea!
Save this product for later