FREE Shipping For Orders Over $75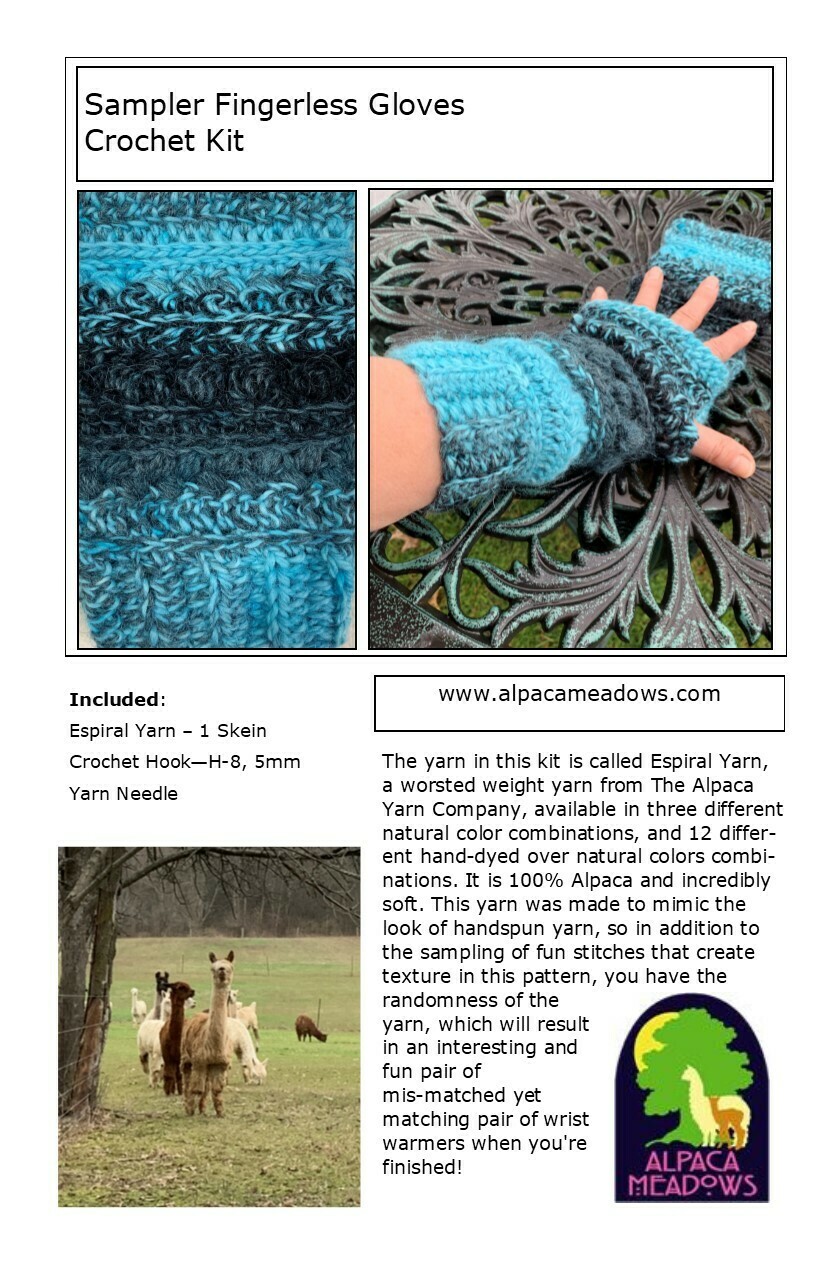 Sampler Fingerless Gloves Kit
SKU 18610
Product Details
This crochet kit has all you need to make the Sampler Alpaca Fingerless Gloves that are pictured, in the color of your choice. The pattern calls for just one skein of Espiral yarn, which is 100% alpaca, and so very soft. This yarn was made to mimic the look of hand spun yarn, so in addition to the combination of fun, textured stitches in this pattern, you have the randomness of the yarn, which results in an interesting and fun pair of mis-matched, yet matching wrist warmers! The color pictured is called Blue Curacao. Click the previous link to see color choices.
Included in Kit:
Espiral Yarn – 1 Skein
Crochet Hook—H-8, 5mm (optional)
Yarn Needle (optional)
Pattern

This would make a beautiful gift for any crochet enthusiast or a gift for yourself!
Stitches, Terms (US) and Abbreviations used:
ch – chain
sc - single crochet
dc - double crochet
hdc – half double crochet
blo-work stitch through the back loops only
flo – work stitch through the front loops only
hdc flo – half double crochet through the front loop only
hdc blo – half double crochet through the front loop only
bphdc – back post half double crochet
sts – stitches
sk – skip
ch sp – chain space
yo - yarn over
sl st - slip stitch
See blog post with explanation of stitches you might not be familiar with here.
Interested in taking a class to make these gloves? Click Sampler Wrist Warmers Crochet Class.
Interested in purchasing these gloves? Click here.

Save this product for later