Alpaca … warmer than wool, softer than cashmere!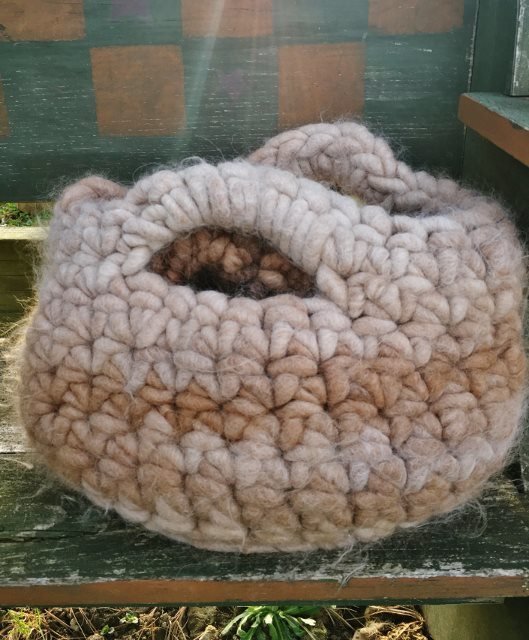 Rug Yarn Crochet Class
SKU 18153
Product Details
In this class you will have the option of learning to crochet either a small rug, or a bag/basket with handles, using alpaca rug yarn and a large crochet hook. Alpaca rug yarn is a very bulky yarn made from alpaca fiber wrapped around a spun alpaca yarn core, which gives it added durability. With a very large hook, crocheting goes quickly, and most will finish during the allotted two hour class time.
The fee includes approximately 85 yards of rug yarn, enough to make a round rug approximately 24" across. Additional yardage can be purchased, if you find you'd like to make a bigger rug. Alpaca rugs are super squishy and soft, especially when stepping on in your bare feet.
If you opt to make the bag/basket, these will measure approximately 10" high, and about the same across the round base. Bags are great for knitting projects, magazines, yarn storage, and more.
We will be using only a few simple stitches, so beginning crocheters are welcome!
You will need a Size S or Size U Crochet Hook. Bring your own, or select the Class Fee, Rug Yarn, Hook option when checking out, and I will have one for you when you come for class. Rug yarn colors can be chosen on day of class.
Have your own rug yarn? Select the Class Fee Only when checking out.
Time Needed: 2 Hours

Save this product for later