FREE Shipping For Orders Over $75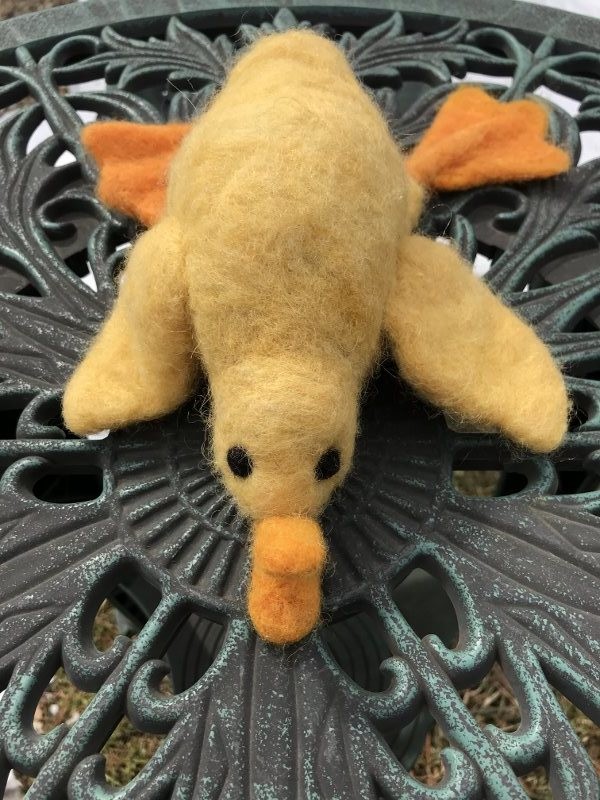 Needle Felted Yellow Duck
SKU 18375
Product Details
This cheery yellow duck was handmade using a process called needle felting. It is crafted from beautifully dyed and hand-carded roving that is a blend of alpaca and sheep's wool. It is made of 100% fiber. She would make the perfect addition to your Easter table, or unique gift for someone special! I've name this duckling "Affy" but you can name her whatever you wish ... I hope she makes you smile!

From the end of her tail feathers to the tip of his beak, not counting her outstretched legs, this duck measures about 7.5" in length.

Needle felting is the process of repeatedly pushing a barbed needle into a tuft of fiber, agitating, compressing, and locking the fiber together into a more dense mass of fiber. Needle felted creations take many hours of felting to complete and each felted piece is a labor of love.

Though soft and wonderful to touch, please handle this wool sculpture with care. It is not meant as a toy and may be a choking hazard for small children.

You might like to check out our Needle Felting Kits, as well as Classes offered at Alpaca Meadows!
Save this product for later