FREE Shipping For Orders Over $75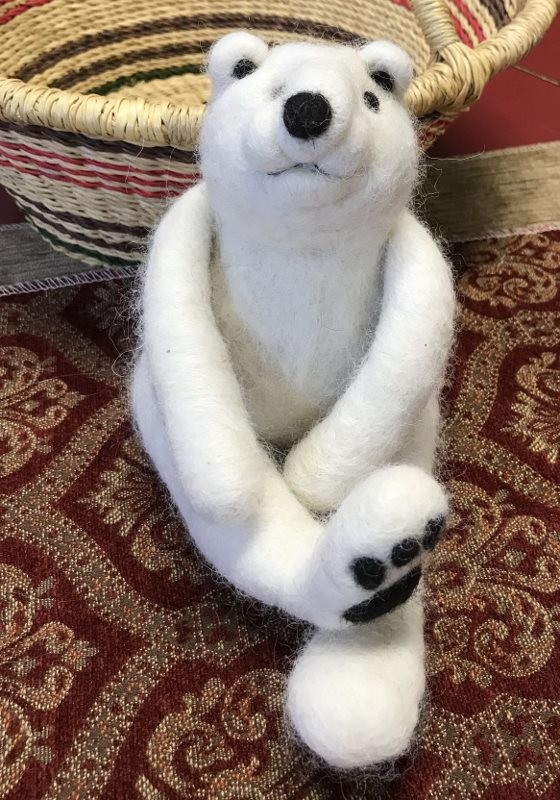 Needle Felted Polar Bear
SKU 18382
Product Details
This needle felted polar bear is one-of-a-kind and was handmade using 100% alpaca fiber. I call him Scooter but you may name him whatever you'd like. He's a young cub, just learning the ways of the wild.

Did you know that polar bear cubs are born in the winter, usually in January or December? When first born, a polar bear cub weighs only one pound. It can't hear or see and has very little fur. They grow up to be the largest land predators in the world, can weigh up to 1500 pounds (twice as large as a lion), and can be up to ten feet long.

This white bear is very soft, and will stay small! He measures not quite 6.5" tall. He would make a very unique gift for a bear loving friend, or a gift that says "I love you" to a special friend.

Needle felting is the process of repeatedly pushing a barbed needle into a tuft of fiber, agitating, compressing, and locking the fiber together into a more dense mass of fiber. This bear began with a nylon knee high stuffed with alpaca fiber, then wrapped with alpaca wool roving. Different techniques are used for adding arms, legs, ears, tail, and facial features. The entire process involves many hours and lots of poking with a felting needle to shape and create the finished piece, kind of like sculpting, but with fiber rather than clay. Each felted piece is a labor of love.

Though soft and wonderful to touch, please keep in mind this is an artist handmade collectible item, not intended for rough play.

You might like to check out our Needle Felting Kits, as well as Classes offered at Alpaca Meadows!
Save this product for later