FREE Shipping For Orders Over $75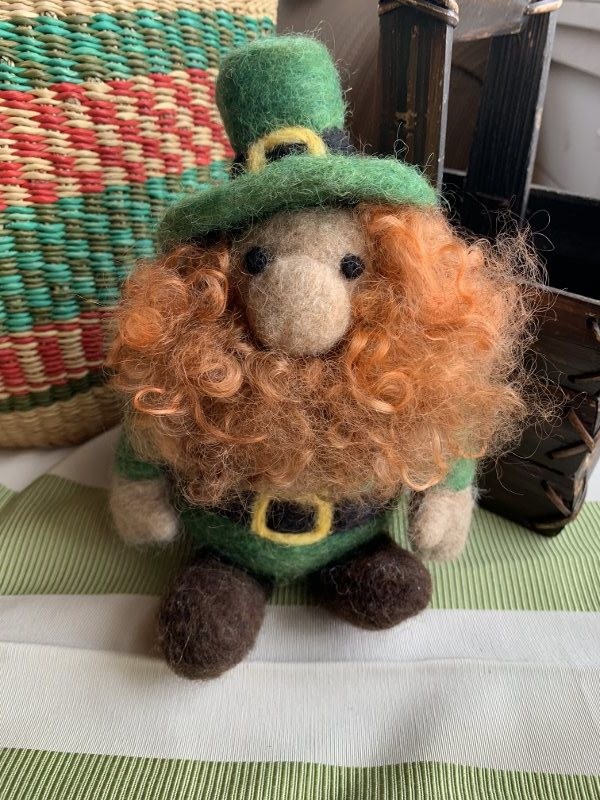 Needle Felted Irish Leprechaun
SKU 18377
Product Details
This cheerful Irish leprechaun was needle felted using primarily alpaca wool fiber, wrapped around a solid fiber core. His rather full beard was created with hand dyed mohair, grown by one of our angora goats. His suit is green, of course, for good luck, and he sports a very Irish green top hat with a black band and gold buckle to match the handsome buckle on his belt. His nose is rather large, which only contributes to making him a more delightful little fellow!
Legend has it that a leprechaun is a type of fairy that stands about as tall as a three-year-old child. A leprechaun is usually described as a bearded man who wears a green suit and hat. According to stories, the leprechaun is a shoemaker who spends most of his time making and repairing shoes. In fact, some say when a leprechaun is near, you can hear the tap-tap-tapping of his tiny hammer as he drives nails into shoes. These little men are also said to be very mischievous and enjoy playing tricks on those they meet.
The leprechaun has become one of the most beloved and popular good luck symbols associated with Ireland and Saint Patrick's Day.
This Irish leprechaun measures about 7" from the bottom of his brown boots to the top of his stately hat.
The process of needle felting is accomplished by repeatedly pushing a barbed needle into a tuft of fiber, agitating, compressing, and locking the fiber together into a more dense mass of fiber. Needle felted creations take many hours of felting to complete and each felted piece is a labor of love.
Though soft and wonderful to touch, please handle this wool sculpture with care. It is not meant as a toy and may be a choking hazard for small children.
You might like to check out our Needle Felting Kits, as well as Classes offered at Alpaca Meadows!
Save this product for later