FREE Shipping For Orders Over $75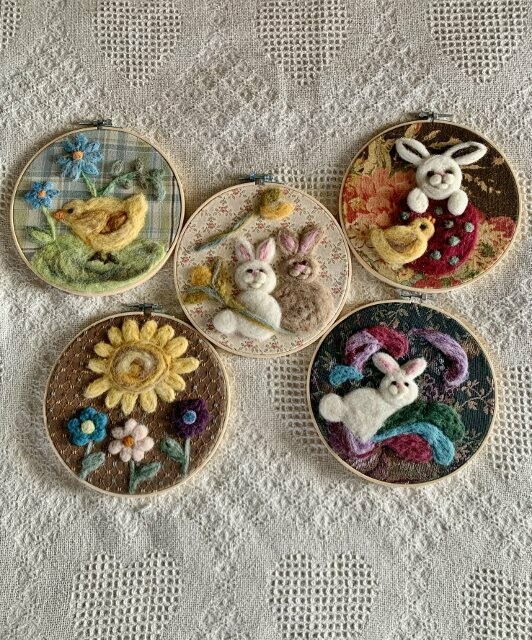 Needle Felted Hoop Art Class
SKU 18600
Product Details
In this class, you will learn the art of needle felting, and create a Spring design of your own choosing, within a hooped frame. Needle felting is the process of using a single barbed needle to repeatedly jab alpaca/wool fibers causing the fiber to tangle and become compact in order to create a two-dimensional flat piece or three-dimensional sculpture.
We will be working on upholstery fabric samples. Choose from the designs above, and learn to transfer a pattern to fabric, or bring your own design to fit within an 8" embroidery hoop. Or create a design as you go right on your chosen fabric. Choose from fabrics available in class, some with designs that can be incorporated into the needle felted design that you create, such as the bunny, chick, egg design pictured. Finishing methods for the back of your piece will be discussed, if not finished in class. Pieces can be hung with a ribbon or simply on a nail through the screw at the top of the hoop.
Fabric, wooden embroidery hoop, alpaca/wool roving, and use of felting foam and needles during class are included in the fee. Felting Supplies are also available to purchase should you want to do more needle felting at home.
Class time will be approximately 2 to 2.5 hours. This is a first time class, so a little hard to know for sure what the length of the class will be.
Save this product for later