FREE Shipping For Orders Over $75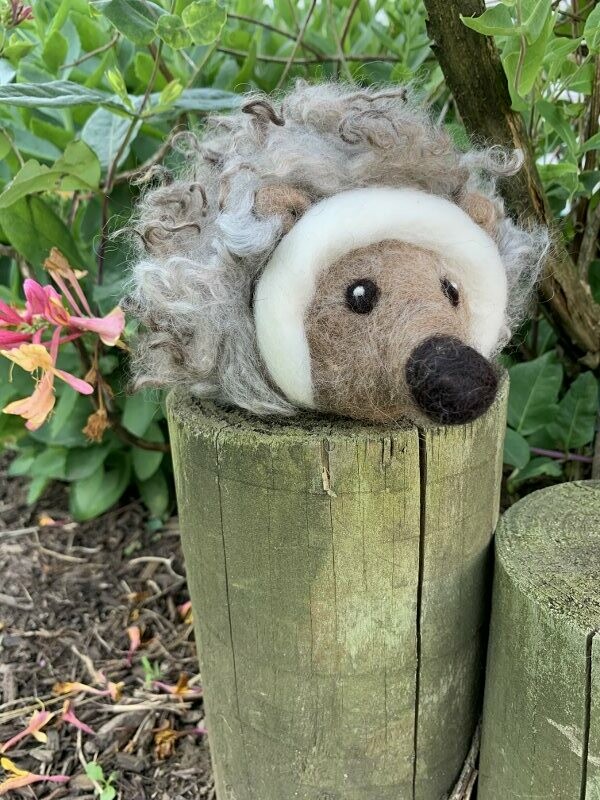 Needle Felted Hedgehog
SKU 18489
Product Details
This cute little hedgehog was needle felted using alpaca fiber as the core, alpaca wool fiber for the outside covering, and silver gray mohair from an angora goat to replicate their prickly spines. He has dark felted eyes, ears, nose, or is a snout? Perfect to set on your desk, or to give to a special hedgehog loving friend!
This hedgehog is made to order and measures about 4.5" tall and 7 1/2" in length.
Needle felting is the process of repeatedly pushing a barbed needle into a tuft of fiber, agitating, compressing, and locking the fiber together into a more dense mass of fiber. Needle felted creations take many hours of felting to complete and each felted piece is a labor of love.
Did you know? The hedgehog was named for its unique foraging methods. They root through hedges seeking their prey — mostly insects, as well as worms, centipedes, bird eggs, snails, mice, frogs, and snakes — while emitting snorts, squeals and grunts. Like a hog, of the hedge … hence, "hedgehog."
Though soft and wonderful to touch, please handle this wool sculpture with care. It is not meant as a toy and may be a choking hazard for small children.
We offer a Hedgehog Needle Felting Class in Mansfield, Ohio, and are working on a kit coming soon!
Save this product for later