FREE Shipping For Orders Over $75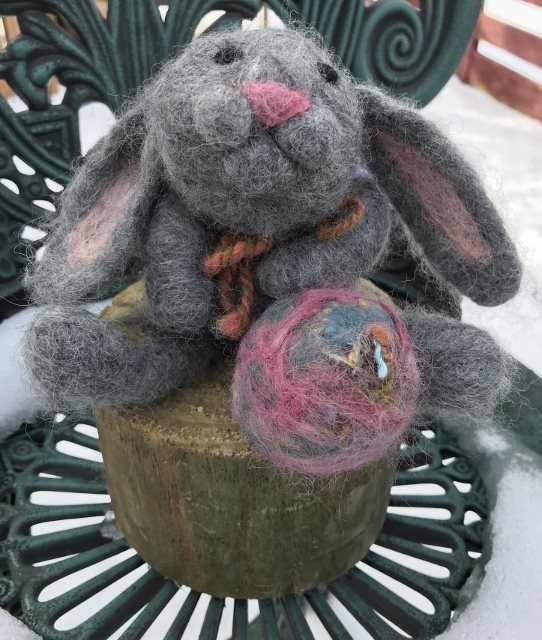 Needle Felted Grey Rabbit with Easter Egg
SKU 18373
Product Details
This needle felted Bunny Rabbit is one-of-a-kind and was needle felted using alpaca wool fiber. I call her Annabelle but you may name her whatever you'd like. She is gray, with the sweetest little pink nose that matches the pink inside her ears, dark eyes, a fluffy cotton tail, and a lace shawl tied around her neck with hand spun alpaca yarn. She is mounted on a fence post top, which is especially helpful to her in scanning her surroundings looking for the next place to hide her pretty hand felted Easter egg. She sits not quite 5" tall, with the overall height on the the piece of wood being about 8".

She would make the perfect addition to your Easter decorations, or unique gift for someone special. Either way, this bunny is sure to make you smile!

Needle felting is the process of repeatedly pushing a barbed needle into a tuft of fiber, agitating, compressing, and locking the fiber together into a more dense mass of fiber. This bunny began with a nylon knee high stuffed with alpaca fiber, then wrapped with alpaca roving. Different techniques are used for adding arms, legs, ears, tail, and facial features. The entire process involves many hours and lots of poking with a felting needle to shape and create the finished piece, kind of like sculpting, but with fiber rather than clay. Each felted piece is a labor of love.

Though soft and wonderful to touch, this felted bunny is not intended for unsupervised play or for children under 3 years, as loose fibers may cause a choking hazard. Please keep in mind this is an artist handmade collectible item.

You might like to check out our Needle Felting Kits, as well as Classes offered at Alpaca Meadows!
Save this product for later