FREE Shipping For Orders Over $75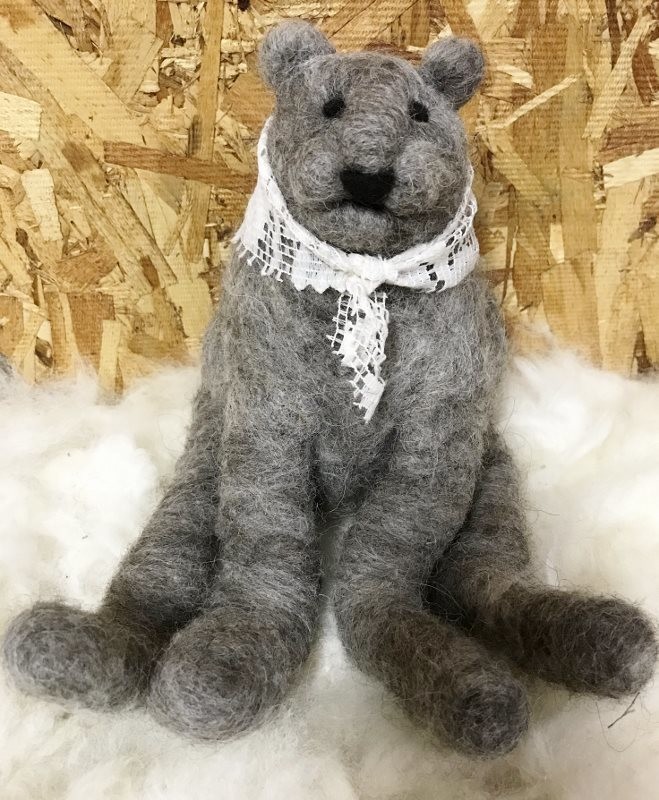 Needle Felted Grey Bear with Lace Scarf
SKU 18383
Product Details
This needle felted gray bear is certain to bring delight. She has been handcrafted from alpaca wool by fiber artist Julie Petty, is quite roly poly with strong, long legs, a sweet smile, and a very feminine lace scarf around her neck. Like our alpacas, this little bear has a unique personality, that you can't help but enjoy. As a gift, she'll bring a smile to the person receiving her. This handmade soft sculpture is a one-of-a-kind, truly unique piece.

Needle felting is the process of repeatedly pushing a barbed needle into a tuft of fiber, agitating, compressing, and locking the fiber together into a more dense mass of fiber. Needle felted creations such as this takes many hours to complete. It can be thought of as sculpting, only with fiber rather than clay.

This felted gray bear stands about 6" (15.24cm) tall. A thoughtful gift for a special friend!

Though soft and wonderful to touch, please keep in mind this is an artist handmade collectible item, not intended for rough play.

You might like to check out our Needle Felting Kits, as well as Classes offered at Alpaca Meadows!
Save this product for later