FREE Shipping For Orders Over $75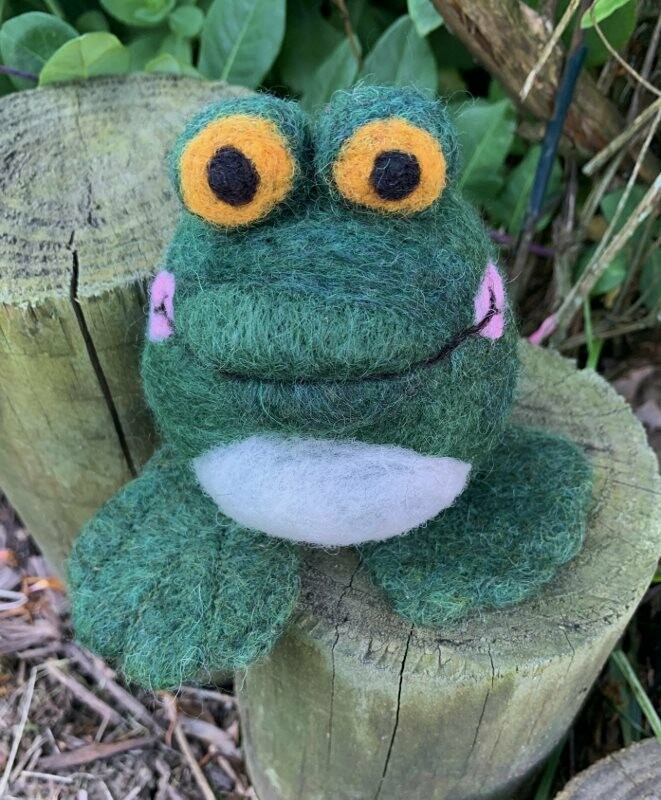 Needle Felted Bullfrog
SKU 18491
Product Details
This stout little needle felted bullfrog could really croak it out if he were real! This cute forest green frog with has a pearly white underside, handsome golden spots on his back, large beady eyes, very large feet for jumping, and a huge smile that would brighten anyone's day. He was needle felted using a blend of soft alpaca and sheep's wool roving wrapped around a fiber core. Sure to make you smile, perfect to set on your desk, or give to a special friend!
This frog measures not quite 4 1/2" tall and sits about 6" wide.
Needle felting is the process of repeatedly pushing a barbed needle into a tuft of fiber, agitating, compressing, and locking the fiber together into a more dense mass of fiber. Needle felted creations take many hours of felting to complete and each felted piece is a labor of love.
Though soft and wonderful to touch, please handle this wool sculpture with care. Needle felted sculptures are not suitable as play items, and cannot withstand lots of heavy handling. They are not meant as toys and may be a choking hazard for small children.
Check out the needle felting Classes at Alpaca Meadows!
Save this product for later