Alpaca … warmer than wool, softer than cashmere!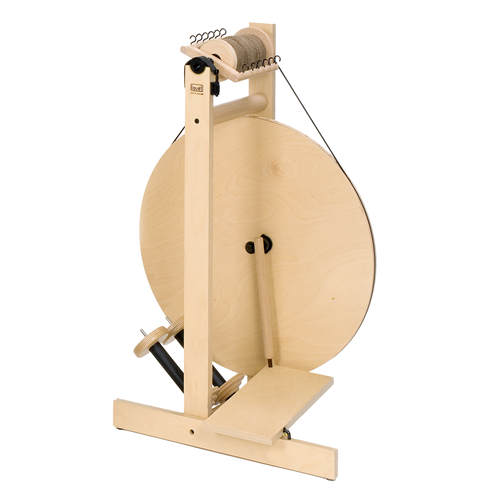 Louet S17 Spinning Wheel
SKU LOUET-091003
Product Details
The S17 is a single treadle wheel is designed with the budget conscious spinner in mind! Smooth ball bearing operation like all our wheels, easy treadling, and a well balanced wheel that won't disappoint!
Comes partially assembled, comparable to other Louet classic wheels, the final assembly is quick and easy. The wood is sanded, the edges rounded and ready for a finishing with lacquer, stain or wax. Since the backpost on the new wheel is 32mm thick, the original S17 skeinwinder will not fit the new version, however, the Louet stand alone skeinwinder will solve that problem. A great wheel at a great price!
The first generation Louet spinning wheels, like the S10 and S17, all have a single belt bobbin drive with an adjustable flyer brake to regulate tension. This results in spinning wheels that are very easy to learn how to spin on, and also very suitable to spin thicker yarns. The bobbins have a sheave with three settings that can be used to obtain three spinning speeds or ratios. By using different types of bobbins and flyers, Louet spinning wheels can be used to produce every kind of yarn, from coarse wool to fine silks. A High Speed Set is also available for this wheel for easier spinning of very fine yarns. Finally, an excellent spinning wheel must turn freely and quietly. Accordingly Louet uses maintenance-free ball bearings in the main hub and at the footman connection. (No lubrication is required). The wheels are made of a laminated hardwood with a "birch" exterior finish.
Specifications:
- Main wheel: Ø 50 cm (19 3/4")
- Ratios: 5.5:1, 7.5:1, & 10.5:1
- Orifice: Ø 12 mm (1/2")
- height 70 cm (27 5/8")
- Weight: 5 kg (11 lb)
Accessories available: extra bobbins high speed bobbin and matching flyer (clear lacquered) high speed fat core bobbin (clear lacquered) bulky bobbin and matching flyer (clear lacquered) stand alone skein winder lazy kate with adjustable brake for four bobbins (clear lacquered).
Save this product for later