FREE Shipping For Orders Over $75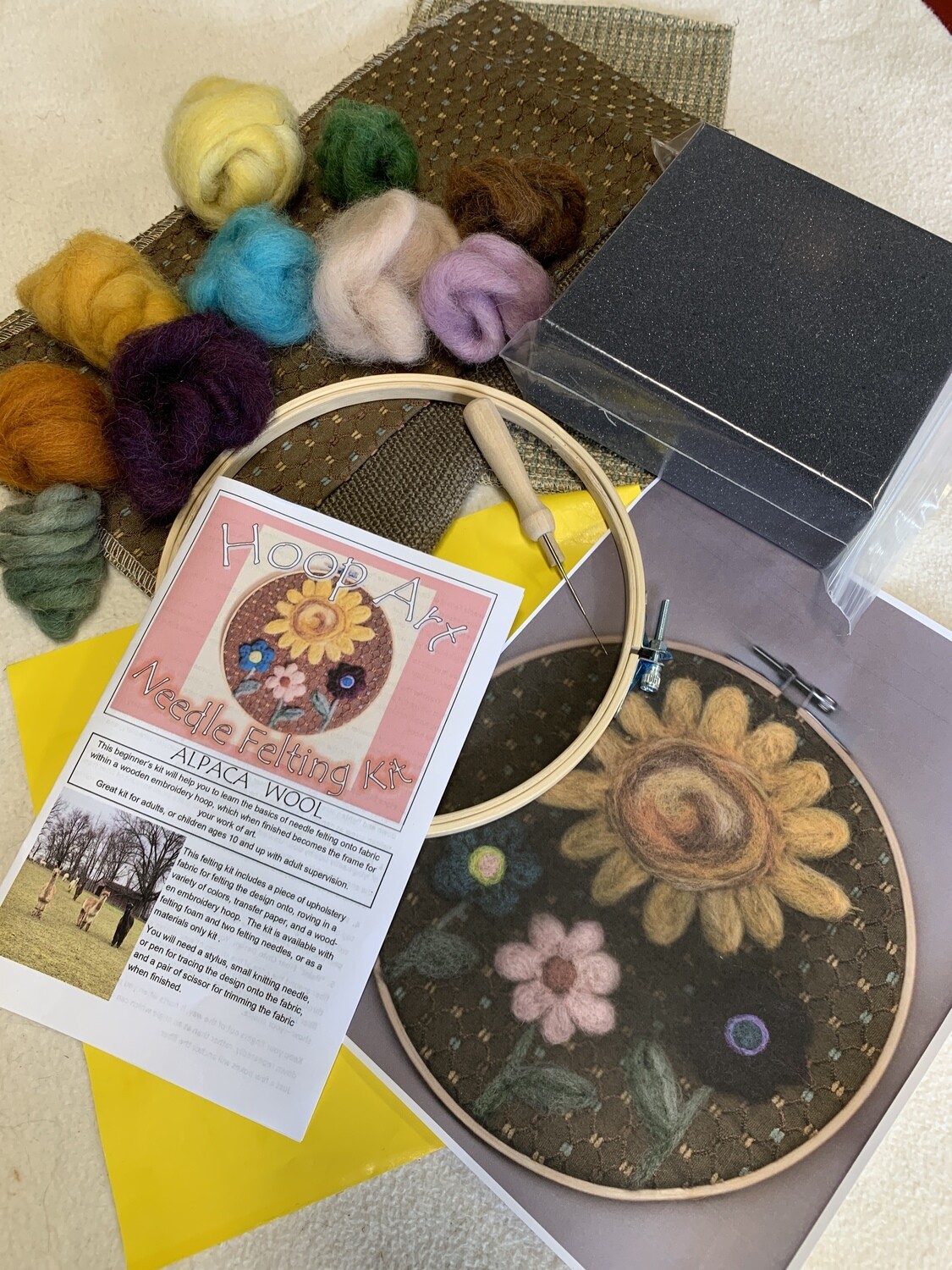 Hoop Art Felting Kit - Sun and Flowers
SKU 18666
Product Details
This beginner's kit will help you to learn the basics of needle felting onto fabric within a wooden embroidery hoop, which when finished becomes the frame for your work of art. A pattern for the cheery sunshine and flowers pictured is included, or make your own design!

Included in this kit are a piece of upholstery fabric for felting the design onto, roving in a variety of colors to create the design pictured, transfer paper for transferring the pattern to the fabric, a wooden embroidery hoop, felting foam, and two felting needles, one in a wooden holder that serves as a nice handle and as a storage case.

You will need a stylus, small knitting needle, or pen for tracing the design onto the fabric, and a pair of scissor for trimming the fabric when finished.


The Complete Kit includes the following:

Assorted Colors of Alpaca/Wool Roving
Wooden Embroidery Hoop
Upholstery Fabric
Transfer Paper
Pattern for Design
Dense Felting Foam - 5" x 4" x 2"
Felting Needles with Handle and Storage - 1
Extra Felting Needle - 1
Instructions

Optional fiber only Supply Pack without foam or felting needles is also available, for those that already have these items.

Felting needles are extremely sharp. Children under 10 should have ADULT supervision!

Great gift idea!

Want to purchase the finished design? Click here. https://alpacameadows.com/the-store/Felted-Hoop-Art-Sun-and-Flowers-p184753026

See more Felting Kits here.
Save this product for later