FREE Shipping For Orders Over $75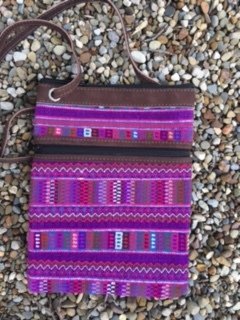 Handwoven Shoulder Bag
SKU 18108
Product Details
This handwoven, vividly colored, cross-body or shoulder bag is perfect for carrying day-to-day essentials, without weighing you down with the weight of a large bag. This lined bag features leather trim, a zipper opening, and a front zippered pocket. The bag measures 10" H x 8" W, with an adjustable leather strap.
This purse has metallic thread running horizontal, adding a little glitz!
This beautiful bag is handwoven by a women's Weaving Ministry in Ixcan, Guatemala. Not only is weaving a learned skill that helps to sustain the women's families, it provides stress relief from dealing with life in a third world country, and gives the weavers a sense of purpose. There's something beautiful about helping to give another woman some purpose in her life.
Save this product for later