FREE Shipping For Orders Over $75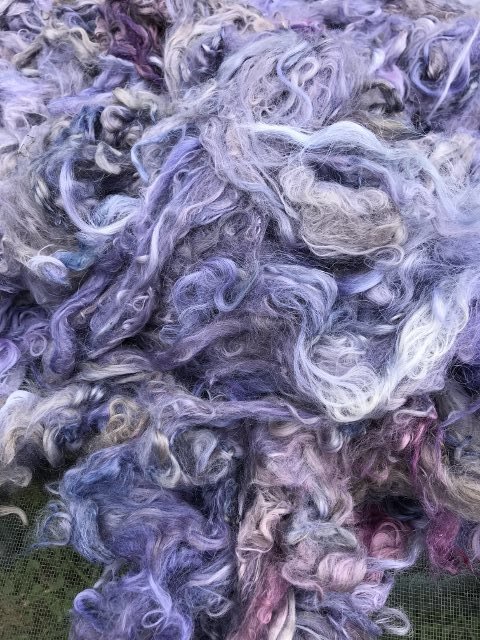 Hand-Dyed Suri Alpaca Fiber, 4.5 Inches, Light Mulberry
SKU 18229
Product Details
Hand-Dyed Suri Alpaca Fiber, carefully skirted, hand dyed with
Gaywool Dye
color called Mulberry, rinsed, and laid in the sun to dry, ready to be carded for spinning, blended with other fibers, or spun right from the locks for a textured art yarn. Suri fiber is wonderful as embellishment in needle and wet felting projects, can be woven with, even knit or crocheted.
This fiber was grown by one of female alpacas named Lorelei, nine years old at the time of shearing. It averages approximately 4.5" in length, meaning you may find some longer fiber and some shorter. Lorelei has some darker color in her light fiber, making this fiber especially interesting after dyeing, with light and dark shades of purple.
Each package contains 2 ounces of fiber.
Suris have a fine fiber, with different degrees of fineness based on the age of the alpaca, nutrition, and environment where the alpaca lives. Fineness is measured in microns and is graded according to this chart:
Grade 1 Ultra Fine (less than 20 microns)
Grade 2 Superfine (20-22.99 microns)
Grade 3 Fine (23-25.99 microns)
Grade 4 Medium (26-28.99 microns)
Grade 5 Intermediate (29-31.99 microns)
Grade 6 Robust (32 microns and above)
Though not a certified sorter, I have handled lots of suri fiber and would consider this fiber to be Medium.
Save this product for later