FREE Shipping For Orders Over $75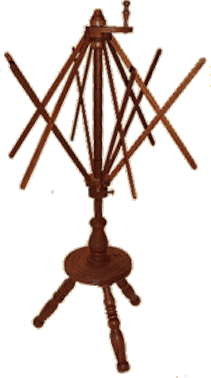 Floor Swift/Skeinwinder
SKU 17717
Product Details
This beautiful and functional piece of furniture has been delighting fiber artists since 1990. Measures 42" tall from floor to top of knob.

The floor model uses the same umbrella section as on the table model. Simply screw it into the floor base.
1. Convertible. Screws into table base (sold separately) to make a table Swift.

2. Collapsible. Unscrew top knob and fold arms together for easy transport and storage. The three legs are easily removed by loosening each of the three locking thumbscrews.
3. Top knob and Teflon ring store under the floor base so they won't get lost during transport or storage.
Works great with the Jumbo Ball Winder. Be sure to see our NEW Mini Floor Swift/Skeinwinder.
Save this product for later