FREE Shipping For Orders Over $75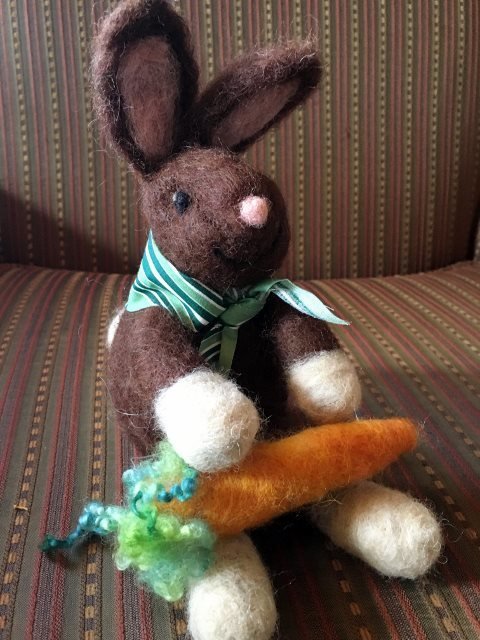 Bunny Felting Class
SKU 00072
Product Details
Needle felting is the process of using a single barbed needle to repeatedly jab alpaca/wool fibers causing the fiber to tangle and become compact into flat pieces or three-dimensional sculptures. In this class, taught by Julie Petty, you will be learning to needle felt a Bunny. Limited only by your imagination, each person's bunny will have his/her own personality which makes this class a ton of fun! You will learn techniques to enable you to make other three dimensional figures as well.

This class is for all skill levels, but is a more involved class than some, due to the numerous bunny body parts we will be making. There will also be a simpler design option for those that have never needle felted before, which will allow beginners to learn and understand the process of needle felting without some of the details that those with experience may want to tackle.

Cost of class includes materials and use of felting tools needed for project. Felting Supplies are also available to purchase should you want to do more needle felting at home.
Class participants must be 16 or older, but kids 12-15 may register with an adult companion also enrolled in the class.

Time Needed: 3 Hours

For inspiration, see my Pinterest board of Needle Felted Bunnies created by a variety of different felting artists. See pictures from other Bunny Felting Classes at Alpaca Meadows.
If registering, for a friend please enter name and email address, then change quantity when you get to the Shopping Cart.

NEW Bunny Needle Felting Kits are now available!
Save this product for later