FREE Shipping For Orders Over $75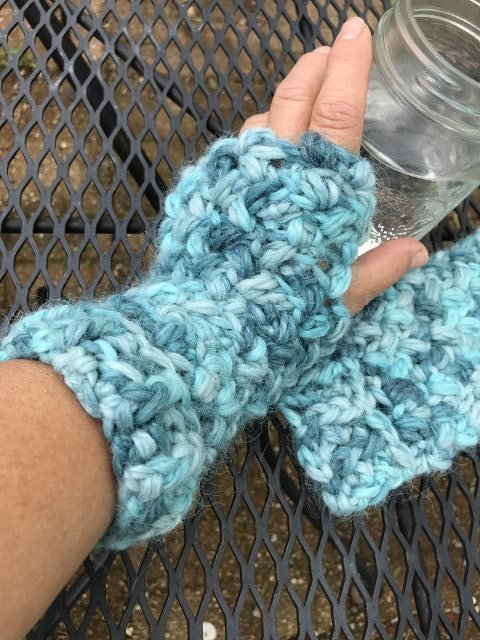 Bulky Fingerless Gloves - Snuggle
SKU 18222
Product Details
These chunky fingerless gloves are hand crocheted using a soft, lofty, bulky hand painted yarn called Snuggle, a blend of alpaca, wool, and acrylic. The color pictured is called A Pack of Purples. Soft, very warm, and comfortable, your fingers will be free to text, dig for keys, drive, write, zip your coat, even crochet!

The gloves pictured are MADE TO ORDER. Please allow 5-7 days to make.

Also known as pulse warmers, wrist warmers, arm warmers, fingerless mitts, and other similar names, people living in the colder mountainous areas of Europe have used them for centuries. By warming the arteries in your wrists, pulse warmers, assist in keeping your whole body warmer.

Fingerless gloves are more than a winter or an outdoor accessory. You can wear them indoors and depending on how thick they are, in most seasons. Wonderful in cold offices, they don't hinder your fingers like gloves.

SIZE
These gloves measure 7.5 inches (19.05cm) around and are 8.25 inches (20.95) in length and are which should fit a medium to large size hand.

CUSTOM ORDERS
Custom orders are welcome and are available in the colors pictured in last image. Please allow 5-7 days to crochet and ship. If you need wrist warmers to be a little smaller, or larger than the ones listed, please measure around the widest part of your hand and send me that measurement.

CARE
Hand wash cold.
Lay flat to dry.
Save this product for later