FREE Shipping For Orders Over $75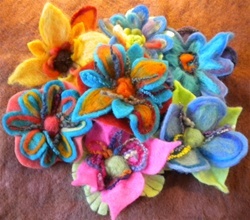 Bloomin' Brites Needle Felted Flowers Kit
SKU B2B-10010
Product Details
Kit contains materials to make three needle felted Bloomin' Brites.
Six 5 inch squares of Pacafil Brites--Choose from three rich color selections.

Three coordinating balls of Alpaca PacaFluff roving.

Coordinating yarn and pencil roving in vivid color and textures for embellishing

One felting needle--size #38

Instructional DVD
Needed but not included: foam work surface, scissors.
Save this product for later