FREE Shipping For Orders Over $75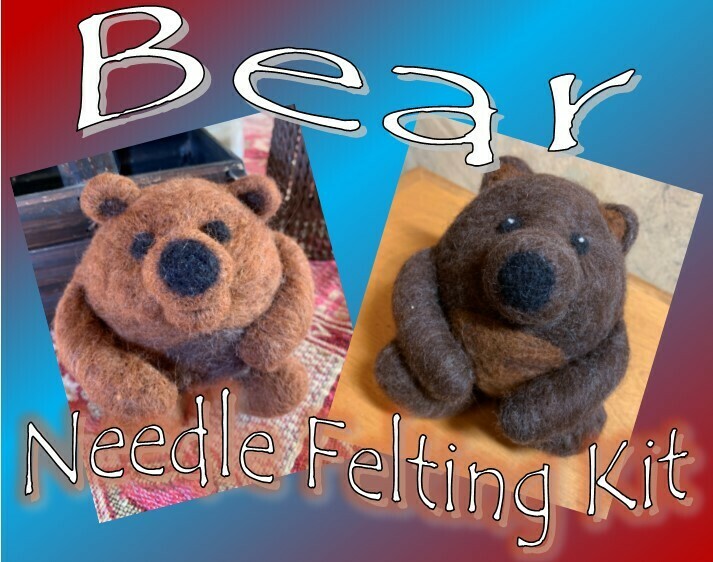 Bear Needle Felting Kit
SKU HTPM71W5
Product Details
This advanced beginner's needle felting kit will help you to learn the basics of needle felting a three dimensional object. Instructions are given on how to create a core shape, apply an outer color, build arms and feet, if desired, and create facial features. There are enough materials to create a Bear that is approximately 4 1/2"-5" tall.
Needle felting is a simple and fun craft, that involves poking a mass of natural fiber with a barbed needle causing the fiber to tangle and become more compact. When finished with this project, you'll have a cute little bear sure to make you smile, or to give as a gift! Or give the felting kit as a gift to your crafty friend!
You will need scissors, and a pencil, or felting stick.
The Complete Kit includes the following:
Stuffing - Clean Alpaca Fiber (color and type may vary)
Nylon Stocking - to stuff and create core shape
Brown Roving - bear body, arms/legs
Contrasting Brown Roving - bear tummy, inside of ears
Black Roving - eyes and nose
White Roving - eye highlights
Dense Felting Foam - 5" x 4" x 2"
Felting Needles - 2
Instructions - Easy to follow, lots of detail, and many pictures!
Great gift idea! Felting needles are extremely sharp. Children under 10 should have ADULT supervision.
Optional fiber only Supply Pack without foam or felting needles is also available, for those that already have these items.
For full-size piece of Foam and Felting Needle Tools, click Felting Supplies.
For felting classes in Mansfield, Ohio ...click Classes to see the schedule.
Save this product for later