FREE Shipping For Orders Over $75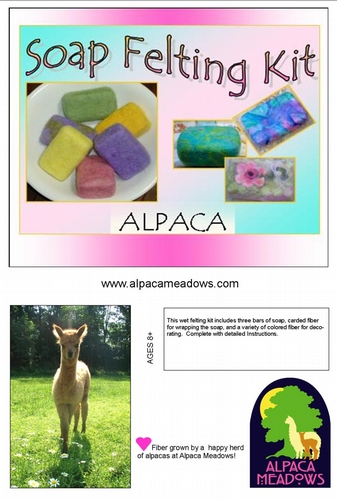 Alpaca Soap Felting Kit
SKU AMDWS-101005
Product Details
This soap felting kit includes everything you need to wet felt three bars of soap. What is felted soap? Felted Soap is soap with alpaca wool wrapped around it and wet felted. It is a bar of soap that has its own soft wash cloth built in! The soap lasts longer, it won't crack when it dries out, and the soap scum that soap normally sits in is eliminated. In addition, the felt gently exfoliates your skin as you wash.
There are three bars of Ivory soap in this kit, ample carded alpaca wool roving for wrapping the soap, and three different colors of roving for decorating and adding color to the base color on your soap. There is a piece of bubble wrap to use in the wet felting process and detailed instructions with pictures.
This is a fun project for children and adults, and makes a unique gift for a crafty friend or family member. Felted soap is fun to make, looks pretty in a soap dish, is wonderful to use, and makes nice gifts!
As the soap, gets used up, the felt covering will continue to felt and shrink in size. Use it as a scrubbie or put it outside and perhaps a bird will find it to line its nest.
Live nearby and interested in taking a Soap Felting Class? Click here.
Save this product for later