FREE Shipping For Orders Over $75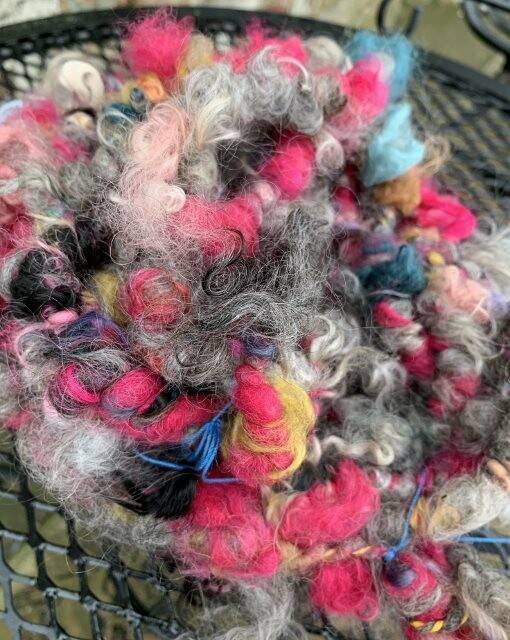 Alpaca Mohair Art Yarn - Hand-Dyed Multi-Colors, Greys
SKU 20200323
Product Details
This thick and thin, super bulky art yarn was handspun from uncarded locks of Suri and Huacaya alpaca, as well as some locks of Mohair making this this yarn especially fun with all the curls and locks of color. The Greys and occasional Brown are natural colors. The alpaca fiber was hand-dyed before spinning with Gaywool Dye colors, Cedar, Azalea, Wattle Bark, Lucerne, Nutmeg, Cornflower, and Mulberry. It is plied with a yellow Cotton crochet thread and has fluffy tuffs of fiber and wispy curls of fiber protruding. It is luxuriously soft and wonderful to work with because of its lovely feel. It can be knit, crocheted, woven with, or worn as is!

This skein of yarn is 11 yards and weighs 5.7 ounces. It is approximately 3 wpi.

Art yarn can be knit or crocheted into most interesting scarves and cowls, using a very large hook or needles. I would suggest 11+ needles or hook size M-13+. I have made purses, headbands, lariats, and most commonly use it as an accent with other yarns. Weavers love the texture that is gives interspersed with other yarns. A skein of art yarn also makes a very unique gift!

If you would like your skein of yarn wound into ball, just let me know at the time of purchase. I am always happy to provide that service.
Suri Fiber used in my art yarns is available here.
See more Art Yarn here.
Save this product for later