FREE Shipping For Orders Over $75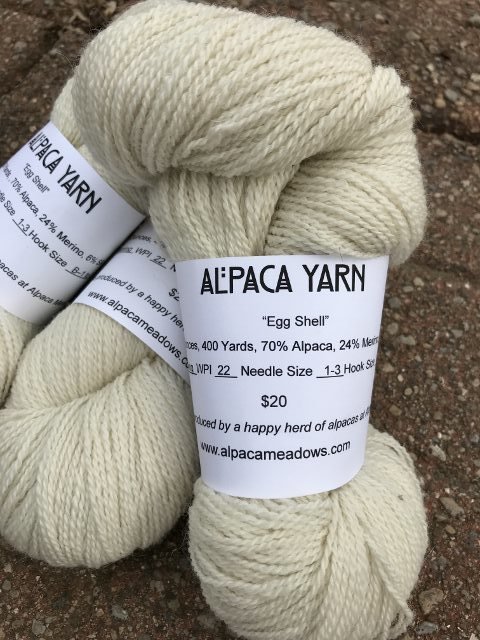 Alpaca Merino Silk Yarn - Fingering Weight, "Egg Shell"
SKU 18201
Product Details
This yarn is mill spun from natural white alpaca fiber, blended with a low micron merino wool and silk for a luxuriously soft yarn. It is a two ply Fingering weight yarn. Morning Star Fiber Mill, an artisan mill, in North Carolina did the processing of this beautiful yarn, called "Egg Shell". The alpacas that produced the fiber for this yarn live at our farm, Alpaca Meadows, in Mansfield, Ohio.
Content: 70% Alpaca, 24% Merino, 6% Silk
Yardage: 400 Yards
Ounces: 4
Weight: Fingering
WPI: 22
Needle Size: 1-3
Hook Size: B–1 to E-3.5
Many pretty shawl patterns call for just one skein of Fingering/Sock weight yarn.
Alpaca Fiber is one of the world's rarest natural fibers. Luxuriously soft, exceptionally light, and warmer than wool, alpaca fiber is abrasion resistant and maintains its insulating properties even when wet. It is considered by many to be a "miracle fiber". Blending alpaca with some of the other natural fibers such as merino wool and silk, further enhances its natural properties.
Save this product for later