FREE Shipping For Orders Over $75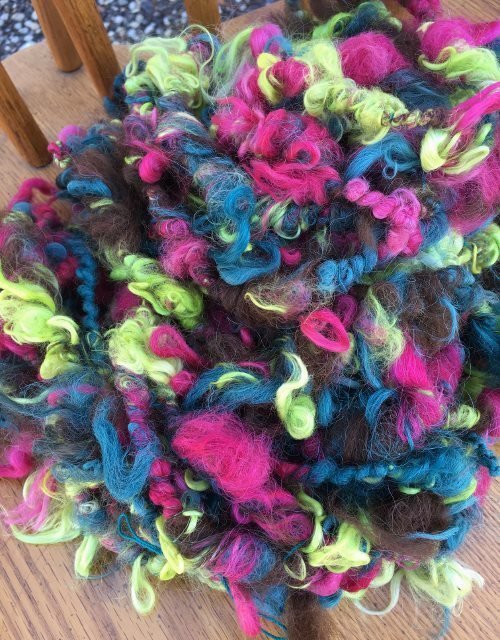 Alpaca Art Yarn - Brown, Cedar, Azalea, Wattle
SKU 18073
Product Details
This thick and thin, super bulky art yarn was handspun from uncarded locks of Suri and Huacaya alpaca. Suri fiber was hand-dyed before spinning with Gaywool colors, Cedar, Azalea, Wattle. The Brown fiber is a natural color. The yarn is plied with a teal Cotton crochet thread and has fluffy tuffs of fiber and wispy curls of fiber protruding. It is luxuriously soft and wonderful to work with because of its lovely feel. It can be knit, crocheted, woven with, or worn as is!
This art yarn would make a lovely scarf/cowl with a sweater, or a very unique gift! I have made purses, headbands, lariats, and used it as an accent with other yarns.
11 yards
6.1 ounces
3 wpi
If you would like your yarn wound into a center pull ball, just let me know at the time of purchase. I am always happy to provide that service. Need a ball winder of your own? Be sure to see our Jumbo Ball Winders and Swifts.

Suri Fiber used in my art yarns is available here.


Save this product for later