The Jumbo Ball Winder from the Strauch Fiber Equipment Co. far exceeds any other ball winders on the market. It's proudly made in the U.S.A., is super sturdy, containing no plastic parts other than the band which will last for years. Whether you're winding a small or large skein, lightweight yarn or bulky, this is a quality made ball winder in a class all its own, and is an essential tool that will be invaluable to any fiber artist.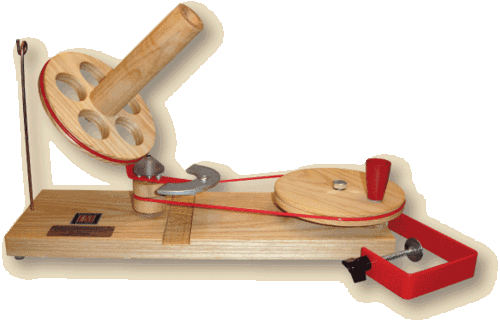 Strauch Fiber Equipment Company is committed to keeping customers satisfied. Enjoy the following videos to help you get the most out of your Strauch Jumbo Ball Winder! Don't have one yet? To order, click here.

How to Fix a Squeaking Strauch Ball Winder
Replace the Drive Cone and Clean out Trapped Fiber from your Strauch Jumbo Ball Winder.
Winding Slippery Yarns on a Strauch Jumbo Ball Winder
Strauch Fiber Equipment Yarn Management Tools
Jumbo Ball Winder and Swift. The Perfect Couple.
Checking the Ball Winder Internal Bearing
How to Wind Super Wash Merino on a Strauch Ball Winder
Winding Slippery Yarns – Another Technique
Strauch Jumbo Ball Winder Maintenance

What makes the Strauch Jumbo Ball Winder so special?
Makes a very large center-pull ball – up to one pound of yarn.
Great for winding large skeins or bulky yarns.
No oiling or adjusting required thanks to a ball bearing drive.
Longer counter-weight bracket greatly reduces vibration.
15″ base eliminates "knuckle-smacking" while winding.
Tall, soft rubber feet prevents the winder from sliding and scratching your table.
Special drive belt material makes for less slipping while making a ball.
Extra long table clamp secures the winder to a variety of table surfaces.
Of course, the perfect companion to the Jumbo Ball Winder for all your yarn winding needs is the Strauch Swift/Skeinwinder!