Although stringing the beads was a bit challenging, and manipulating my single fiber strand without getting it tangled in the strung beads during the playing process could have made me crazy, I was very pleased with the end results!
 These are the hand-dyed Suri Locks that I started with. 
 I spun carelessly from uncarded locks not worrying about any kind of uniformity.  I felt like a kid going out to recess, playtime!
 Once I got a rhythm going and coordinated pushing a bead forward when  I was ready for one, the plying flowed smoothly.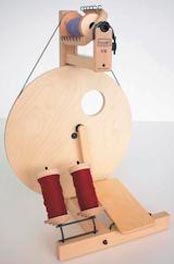 I used my Louet Spinning Wheel, versus my little electric spinner, because I needed to stop and start frequently.  My Louet gave me the control I needed without having to turn it off and on.
 I named it, as I do all my yarns, "Pretty As A Princess".
For some good instructions on spinning this type of art yarn see Kate Larson's post, Beaded Chain-Plied Yarn, on the Spin-Off Magazine website.
This looks like a book I ought to have!