Learning to knit can be a bit overwhelming, but once you've learned it can be very enjoyable, calming your mind while your hands stay busy.  What you will need is some yarn, a couple of knitting needles, a pair of scissors, and a tapestry or yarn needle.  As you progress with your knitting you may want to add to your list of supplies, some extras, some fun tools to make knitting more fun, and sometimes easier too.  Take a look at 17 Things Every Knitter Needs.
Choosing Yarn
One of the pleasures of knitting is working with beautiful yarn textures and colors.  That being said, choosing which yarn to use can be puzzling.  Of course, I'm partial to Alpaca Yarn because it is so soft and such a pleasure to work with, and we do raise alpacas.  We have our very own Farm Yarn made from the fiber of our own alpacas, though with our small farm, the amount is limited and we sell out quickly.  For that reason we also carry yarn from The Alpaca Yarn Company from Fingering Weight to Bulky. It is important to choose the right yarn for your knitting project.  This E-guide on How to Choose and Use the Right Yarn Every Time is a very helpful resource and so is Top 10 Yarn Questions. 
Or take it a step further with a Craftsy Online Class by Clara Parkes called Know Your Yarn: Choose the Perfect Yarn Every Time. The description of this class is as follows: "Join acclaimed author Clara Parkes for comprehensive guidance on identifying and choosing the yarn you need for the project you want! Find out the meaning of fiber terms such as staple, crimp, luster, and micron. Then, discover the benefits and challenges of fiber from sheep, alpaca, goats, rabbits, and other animals. Learn about the advantages and disadvantages of plant fibers: cotton, linen, hemp, and bamboo. Explore the strengths and weaknesses of different silks, as well as for synthetic fibers. Clara will even demystify the different types of twist and why they matter. Finally, get tips for identifying mystery stash yarns, evaluating yarn from your local shop, and much more. Match the right yarn to the right pattern with confidence and create projects you're thrilled with every time!"
Disclaimer: This post includes affiliate links.
Some suggest that beginners start with a medium Worsted weight yarn. I like to use Bulky yarn when teaching beginners to knit, because knitting goes faster, and gratification from a finished project comes sooner!  Yarn that is a solid color and light colored makes seeing the stitches easier.
I frequently use a simple pattern called Easy Mistake Stitch Scarf and a bulky yarn called Snuggle when teaching beginning knitting classes.  We typically use solid colors, but there are also some very pretty hand-painted colors too.
Find something that is pretty and soft to the touch for your first project.  I highly recommend Alpaca Yarn, you can't go wrong.  It is a treat to work with and helps make the learning curve of knitting more enjoyable!
Yarn Labels
Yarn has labels that provide lots of information, such as the yarn size, the type of yarn, the amount of yardage, fiber content, recommended needles to obtain the gauge, and care instructions. On the label you will also see yarn color names, numbers or dye lots. There can be subtle color differences between yarns dyed in different batches, so if yarn has a dye lot number, always be sure that you purchase enough of the same dye lot to finish a project. Some yarns will say "No Dye Lot Yarn" which means the fibers were dyed before they were spun so there should be no color differences. Many labels also include free patterns.
Here is How to Read a Yarn Label.
All yarn patterns require specific types of yarn, some mention a specific brand of yarn. Each type of yarn has a different thickness or "weight." The knitting industry has adopted a Standard Yarn Weight System and uses number symbols from 0 to 7, with 0 being the finest called lace weight and 7, the thickest, called Jumbo.
Knitting Needles
There are many kinds of knitting needles to choose from.  Straight knitting needles, which come in aluminum, plastic, wood or bamboo, are the most common. There is a point at one end of the needle, and a knob at the other, which prevents stitches from slipping off.  You may want to experiment with different needles to see which ones you like.  Every knitter has their favorites!
Bamboo or wood needles are great choices for beginners. Knitting stitches don't slide off the needles as easily. They're also very comfortable to work with. Plastic and aluminum are quite slippery and your knitting stitches can easily slip off the ends.
A numbering system is used for determining needle sizes, while in other countries a metric designation, which represents the actual circumference of the needle, is used. In most packaging you will see the metric sizing shown first, followed by the U.S. sizing in parenthesis. Knitting needles come in varying sizes, from 2.25 mm (1), the smallest, to size 19 mm (35) and larger.  They are sold in pairs, and come in 10″ or 14″ lengths.
The most important size you need to look for is the diameter.  This number will determine the size of the stitches on your needles and ultimately the size of your finished knitting project. The thicker the needle the bigger the stitches and the thinner the needle the smaller the stitches.
The length of the knitting needle is more of a personal choice. For bigger projects like sweaters or blankets that require lots of stitches, you will need the really long needles.  For smaller projects, shorter knitting needles are more comfortable. Again though this is a matter of personal preference.
Circular knitting needles, long, flexible needles with a point on each end, are less cumbersome, especially for large projects.  They eliminate the need for seams and to continually be turning turn your knitting at the end of a row.
For smaller projects that do not have seams (socks and mittens) "double-pointed knitting needles" are used. These come in sets of four and as their name suggests, there is a point on each end.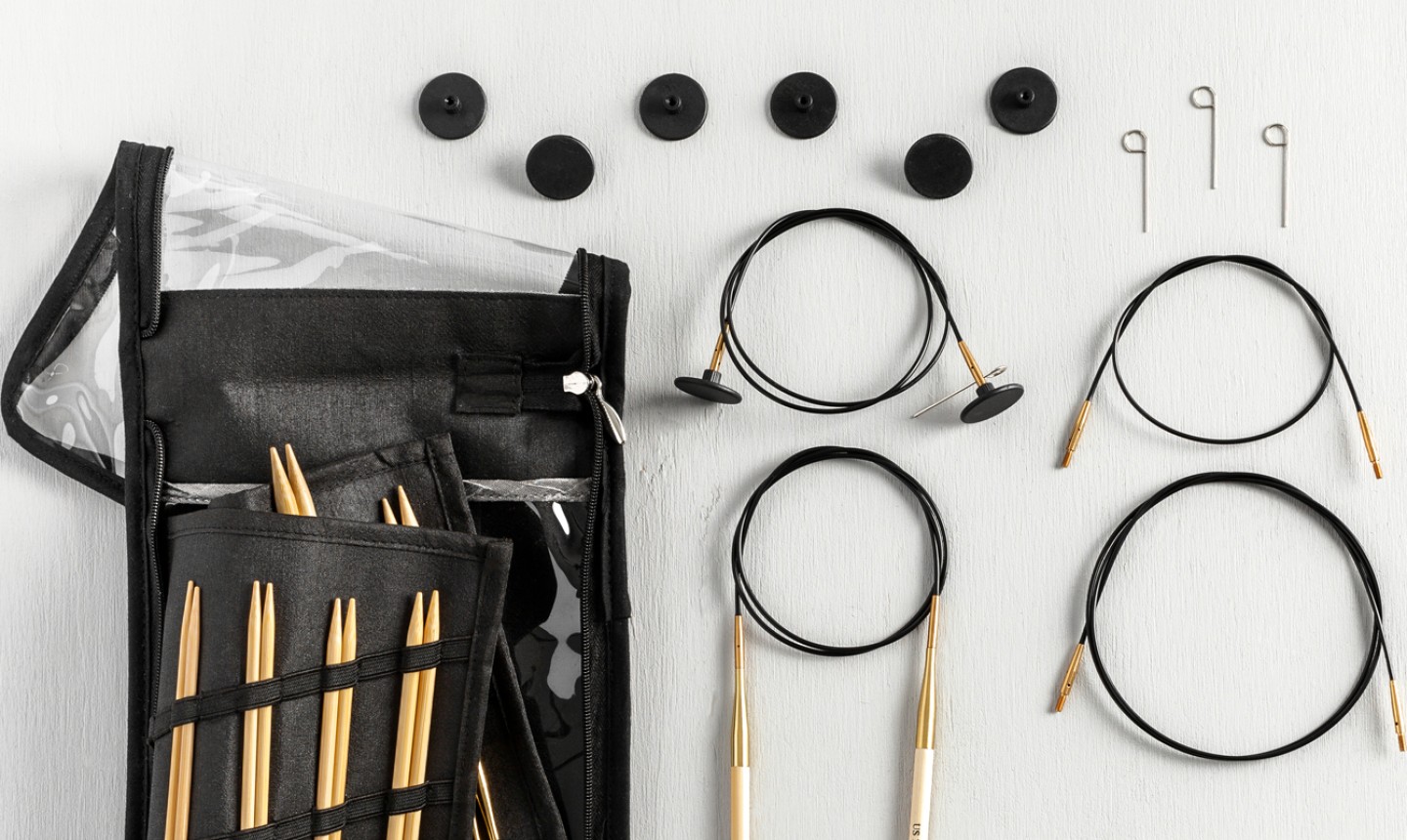 17 Things Every Knitter Needs | Craftsy
So, let's move on to Getting Started!
Classes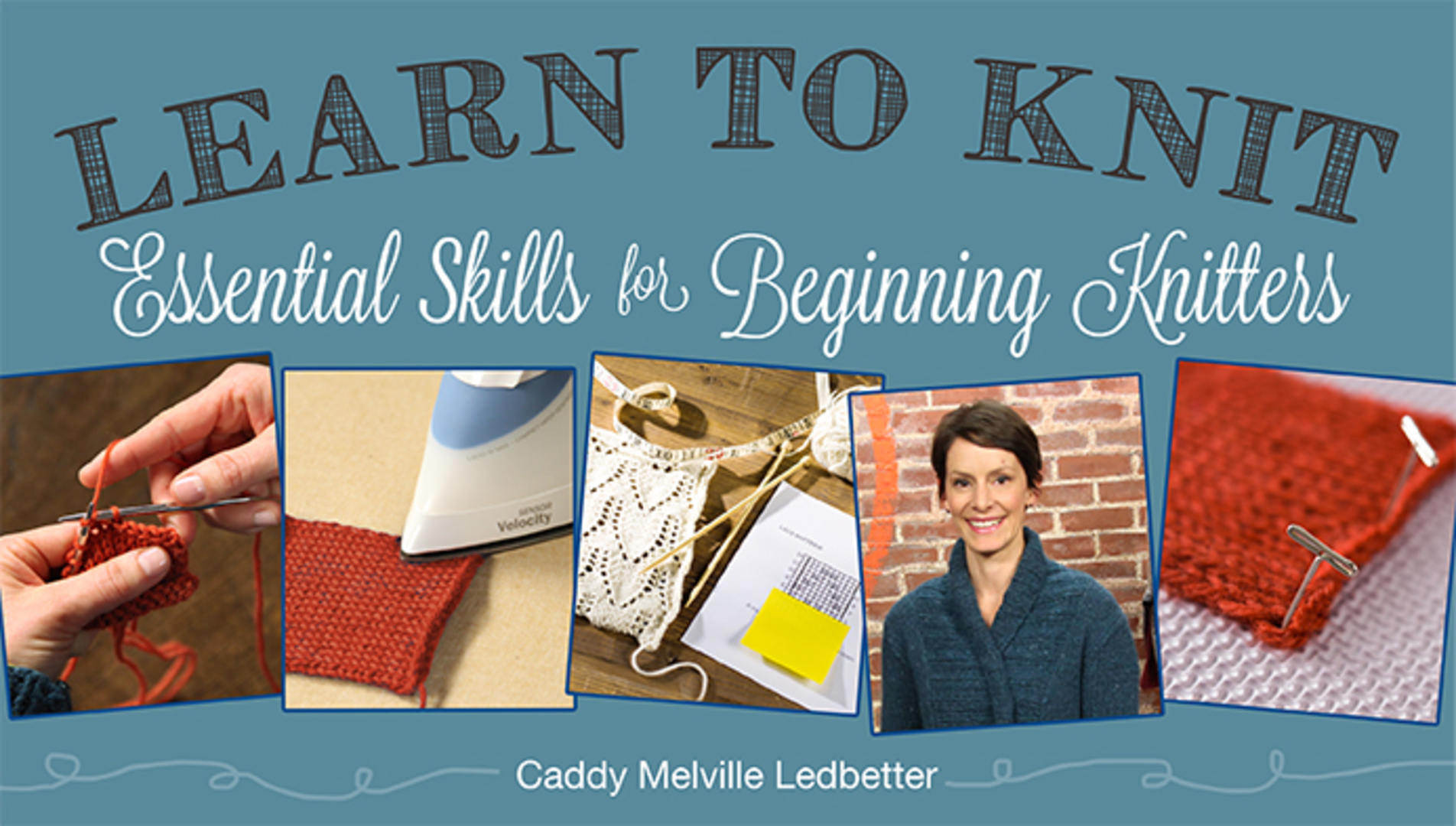 Depending on how you learn, a Knitting Class is always helpful when you are first learning, as well as when you've mastered the basics and are ready to move on to something more.  Craftsy offers many online Knitting Classes, with hours of instruction, and access anytime once you have purchased the class.
If you're near Mansfield, Ohio, be sure to check out the Learn to Knit Class at Alpaca Meadows!