There is unquestionably one strict rule on Saint Patrick's Day.  Wear green, or risk getting pinched!  Sporting a green top hat with black headband and gold buckle, this Needle Felted Leprechaun Brooch should keep you safe from pinchers, not to mention it's fun to make!
According to the World History Encyclopedia, leprechauns are actually one reason you might considered wearing green on St. Patrick's Day.  Accordingly, this tradition is tied to folklore that says wearing green makes you invisible to leprechauns, who like to pinch anyone they can see.  Tradition tells that people would pinch those not wearing green, in order that they be reminded a leprechaun would pinch them if they didn't put on some form of green attire.
Interestingly enough, the national color of Ireland is blue, so many Irish wear blue rather than green on St. Patrick's Day.
Want to make a needle felted leprechaun brooch?  To begin with you'll need some roving, and it only takes just a small amount.  At the present time, we are offering Corriedale Sliver which I like especially well for needle and wet felting.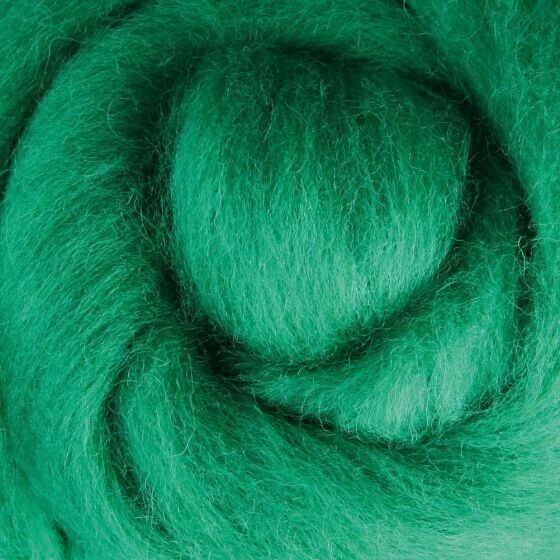 If you happen to live nearby and can stop by the Farm Store at Alpaca Meadows, we sell roving by the ounce.  You can select small amounts of the colors you need for the purpose of small projects like this brooch.  Roving Samplers are also available and include three ounces of small quantities of roving/sliver.  Feel free to contact us if there are specific colors you'd like to be sure are included.
Additionally you'll need a  piece of felting foam, and a felting needle or two, because these needles do sometimes break.
What is Needle Felting?
Needle Felting, sometimes referred to as dry felting, is the process of poking with a barbed needle to tangle fibers together until they surprisingly transform into a solid object, or three dimensional creation.  Basically it's a very versatile craft and certainly has many different applications, is simple to learn, easy to get started, and very therapeutic!
Leprechaun Head and Hat
You'll want to begin with a small amount of flesh colored roving.  Position this roving in a circle on your felting foam.  Begin needle felting by poking the roving with the needle over and over, in a bouncing type motion.  Soon you will find that the more the fiber is agitated (poked) with the barbs at the end of the needle, the more it tangles and holds together.  Add more roving if necessary until you achieve the thickness desired.  Lay  green roving on the foam in order to create a hat brim, and then additionally add roving for a cap on the hat, a thin piece of black roving for a hat band, and finally an even thinner piece of yellow or gold roving for a buckle.  Holding these thin pieces taunt as you poke will be helpful. 
Undoubtedly the most important thing to remember when needle felting is that you'll be working with a sharp needle, so you absolutely need to keep your fingers out of the way. Not surprisingly, it will hurt if you poke yourself! Try to poke straight up and down with the needle so that you are less apt to break it.  Keep the needle moving.  Soon you will notice that the more you poke the firmer the surface will become.
Felting the Foam
Be sure to peel your leprechaun head off of the felting foam periodically.  It will felt to the foam if you don't.
Leprechaun Eyes
Eyes require just a very small pinch of black roving.  Wet your fingers and roll the roving into a small ball between your fingers.  Needle felt in place.  It's tempting to want to push small items such as eyes into place.  Remember to keep poking.
Leprechaun Nose
This leprechaun has a rather large nose, a thing of beauty and something of which to be proud!  However, typically leprechaun noses are small so perhaps this leprechaun is part gnome.  In any event, I like the big nose!
The photobomber in the picture on the right is our new puppy named Baxter.  He's the cutest, don't you think?
Leprechaun Beard
Leprechauns do typically have pointed ears.  We'll just pretend this felted leprechaun's ears are hidden under his curly beard.  The beard is created with Mohair from our Angora goat named Lola.
Even with the dark color of Lola's fiber, I was able to dye it and come up with this auburn color, certainly perfect for a leprechaun beard and concurrently just the right amount of wave.
The locks of Mohair were long enough that I folded them in half and needle felted them to attach at the fold.  Keep adding locks in this manner working your way around the face, until you are happy with the results.
Finishing Your Leprechaun Brooch
Finally, you can use a glue gun or sew a pin to the back to finish your needle felted leprechaun brooch!  Enjoy wearing it on a jacket, book bag, or scarf.  Or make a magnet if you wish.
According to Wikipedia, "A leprechaun is a type of fairy of the Aos Sí in Irish folklore. They are usually depicted as little bearded men, wearing coats and hats, and who partake in mischief. Basically they are solitary creatures who spend their time making and mending shoes and have a hidden pot of gold at the end of the rainbow."  Read more about the Origin of Leprechauns and Lucky Things To Do On St Patrick's Day!
Want to give needle felting a try?  Check out the Felting Kits or the Needle Felting Classes at Alpaca Meadows!  Want to try a 3-D Needle Felted Leprechaun?  The one pictured above is one of my creations.  The creative possibilities with needle felting are endless!  Finally, in the spirit of Saint Patrick's Day you might enjoy How to Make Felt Shamrocks on the Positively Splendid website!  Or try making Irish Potato Candy, the sweetest way to celebrate St. Patrick's Day!  Ever heard of it?  Me neither.