In our brand new DIY Halloween Needle Felting Kit for beginners, you will learn the basics of needle felting. The kit includes five different Halloween designs to cut out and use as stencils. Designs can be felted onto a backing fabric such as jeans, a sweatshirt, a canvas bag, a piece of felt, or onto the piece of fabric included in the kit. Designs can also be felted as individual shapes to make into pins, ornaments, magnets, or coasters.  Needle felting is the process of using a single barbed needle to repeatedly jab alpaca/wool fibers causing the fiber to tangle and become compact in order to create a two-dimensional flat piece or three-dimensional sculpture.  Needle Felting on a flat surface is an enjoyable craft that is a bit like "painting", but with fiber.  The sky is the limit when it comes to the things you can create, and you can't make a mistake!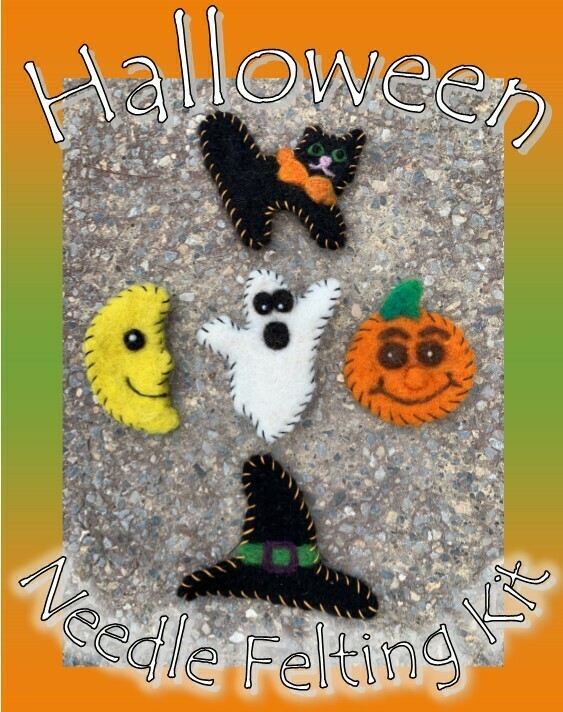 This kit will provide a very simple introduction to needle felting that will give you an idea of what this fun craft is all about!  Step-by-step instructions, patterns, alpaca wool roving in colors needed to produce the designs pictured, backing fabric, re-usable felting foam and two felting needles are included.  Stencils will need cut apart, and then the centers cut out with scissors or a craft knife.  The process involves placement of the stencil with the felting foam underneath, filling the stencil with fiber, and then poking.  Keeping your fingers out of the way is important.  Felting needles are sharp and it will hurt if you poke yourself!  The more you poke, the firmer the new fabric you're making will become.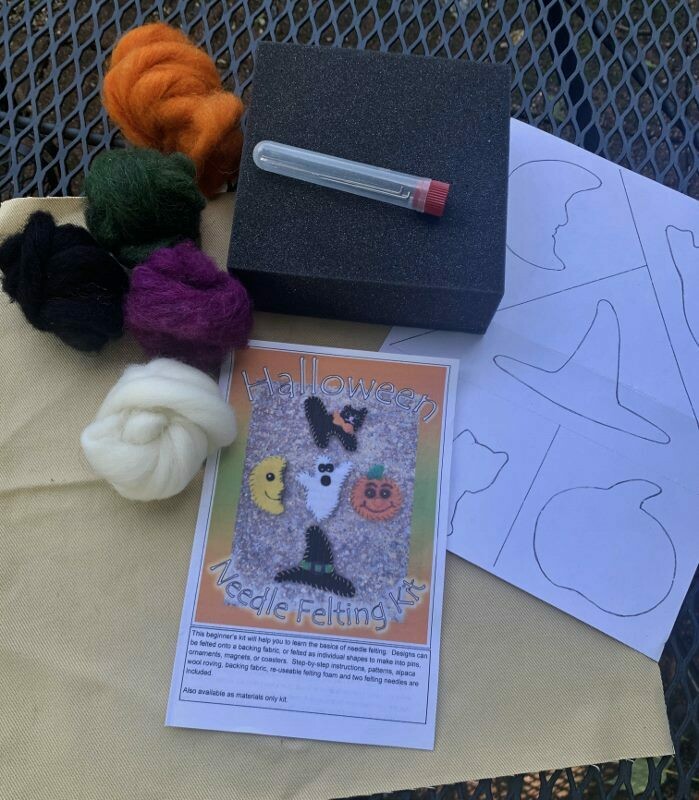 Felting inside a cookie cutter is another fun way to needle felt, and there are so many shapes and sizes of cookie cutters to choose from.  Check out Needle Felting in Christmas Cookie Cutters for directions on how to do this.  When felting inside a cookie cutter, you must be careful not to poke the metal or plastic edges of the cookie cutter, which often results in needle breakage.  Felting inside of a stencil eliminates this problem.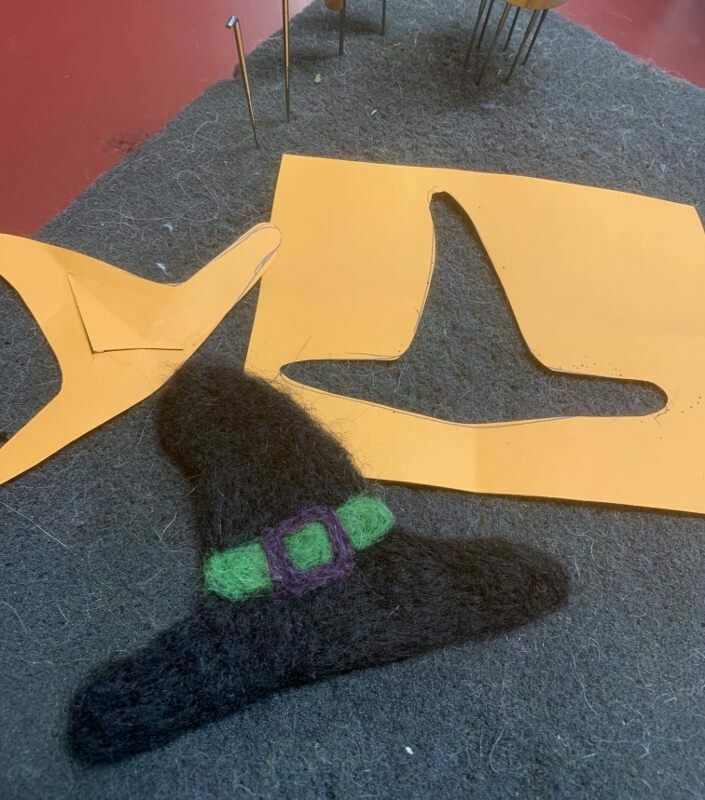 Of course you can create your own design without a cookie cutter or stencil working directly on the piece of foam or onto something like a sweatshirt, jean jacket, or pillow.  If felting directly on the piece of foam, care must be taken to peel your design off of the foam so that it doesn't become permanently attached.  Felting onto a piece of fabric or a piece of fabric inside an embroidery hoop is fun.  Take a look at a Fall design I'm working on below.  I call this Hoop Art Felting and I do have a kit available if you want to take a "stab" at it, click here.
Another fun felting kit for Fall is our Pumpkin Needle Felting Kit!  This is a good one for beginners, and so is our Frog Needle Felting Kit.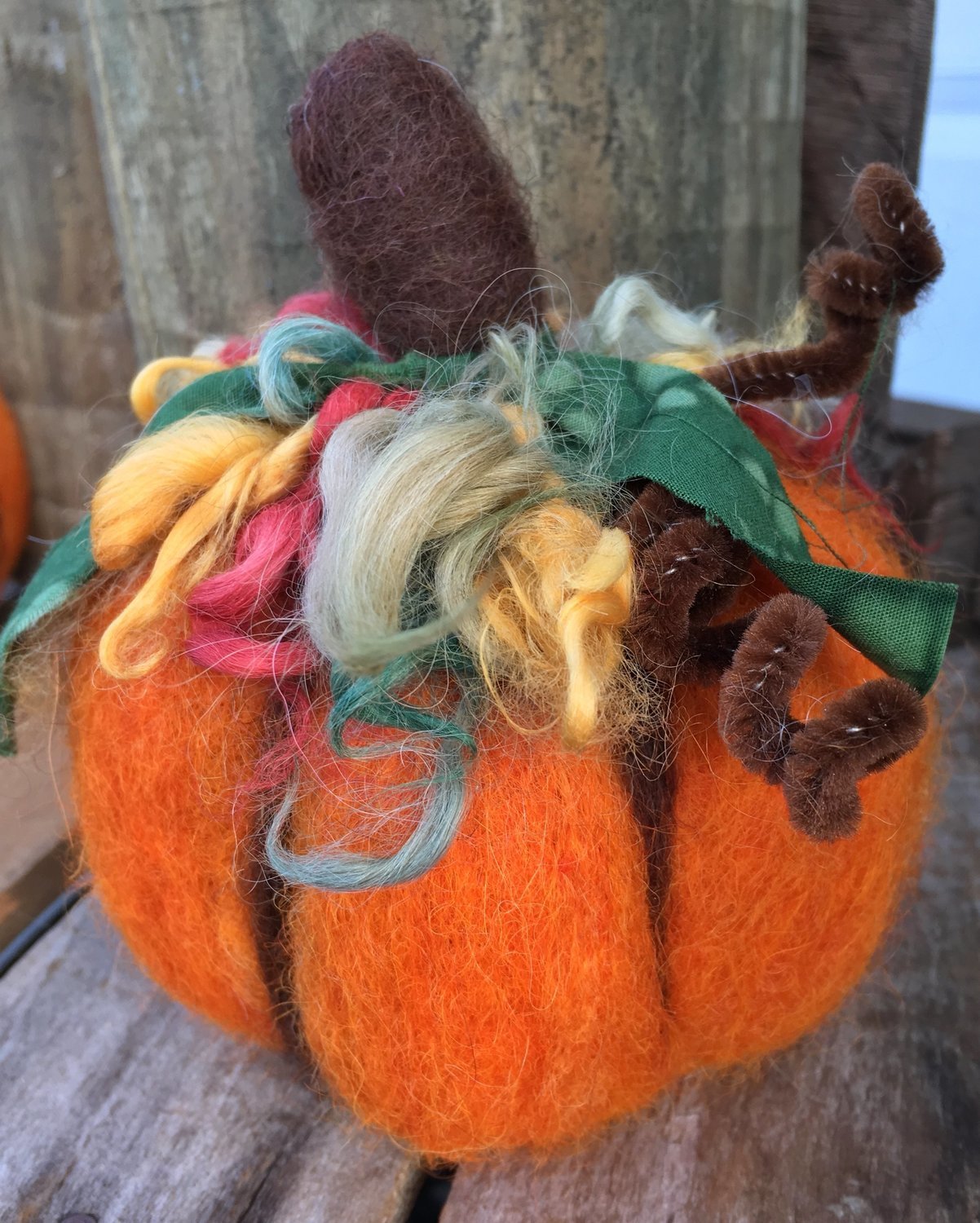 Need extra Felting Supplies?  We have Felting Tools, Felting Needles, Finger Protectors, and Felting Foam as well as Roving for felting.  We even have an Alpaca Wool Roving Sampler Pack with Autumn colors for your Fall felting pleasure.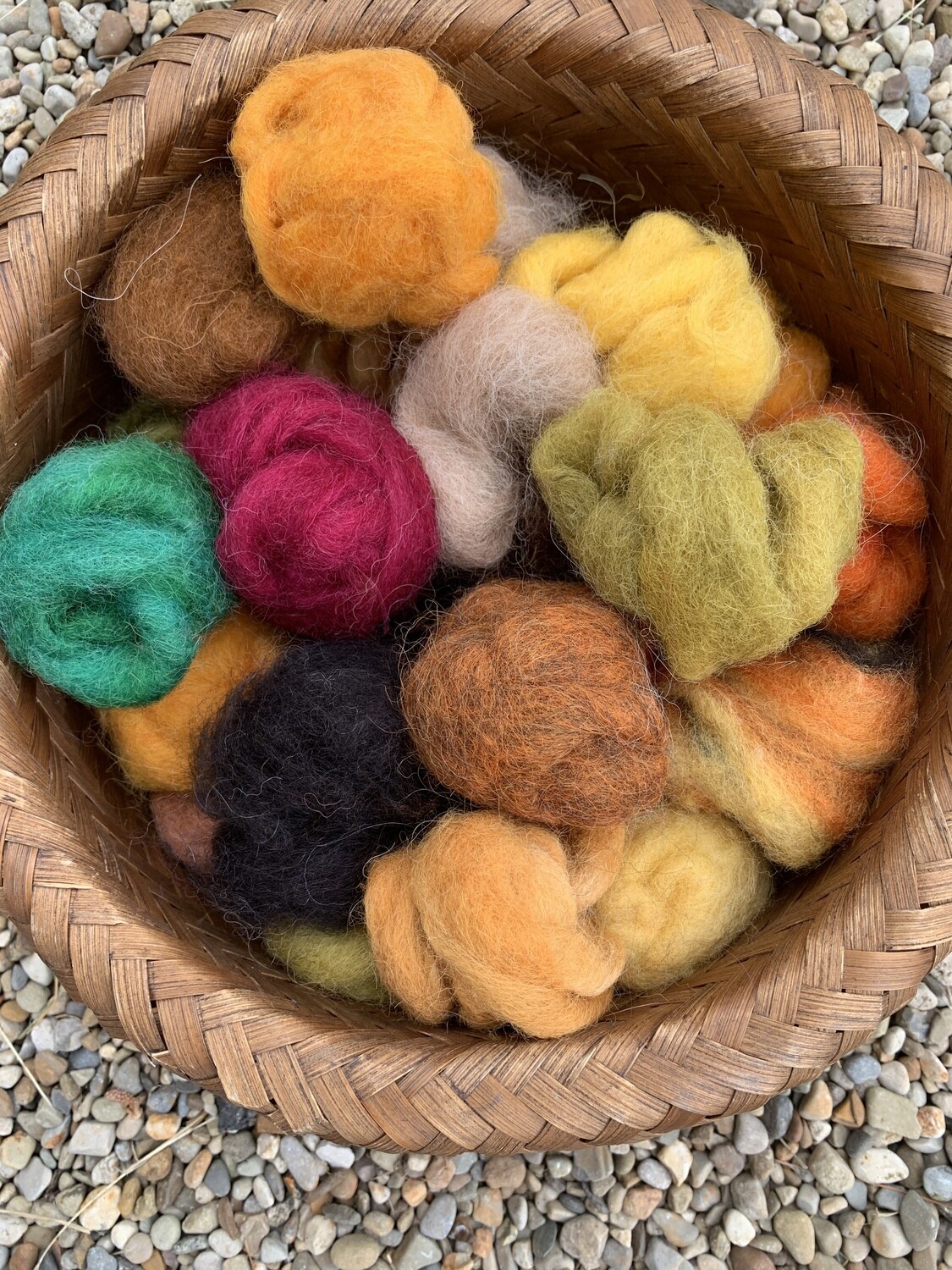 Need some inspiration?  See Felted Creations by Julie Petty, some of my own handiwork!  For more blog posts on Needle Felting, click here!  For other Needle Felting Kits, click here.   This really is a fun craft, not hard to do, an outlet for your creative juices, and great stress relief too!  For more posts on Felting, click here.
Live near Mansfield, Ohio?  Perhaps you'd be interested in our Needle Felting Classes.