This knit hat is called Darn Knit Cable Hat and the design is by Aimee Pelletier. Aimee's grandmother taught her to knit when she was a young girl. She put her knitting away for many years, and then according to Aimee, her Nan conned her into it again! She now owns her own yarn shop in Stillwater, Minnesota called Darn Knit Anyway. To see more of Aimee's projects on Ravelry, click here.
YARN
I used our bulky Snuggle yarn, a blend of alpaca, wool, and acrylic. One skein is all it took. The color of the hat above is called Shire and the color of the hat below is called Dockside.
SUPPLIES
You'll need US11 – 16" Circular Knitting Needles, US11 Double Point Needles, Stitch Markers, and a Yarn Needle. 
ALPACA STITCH MARKERS
Speaking of Stitch Markers, you just must check out these Alpaca Stitch Markers!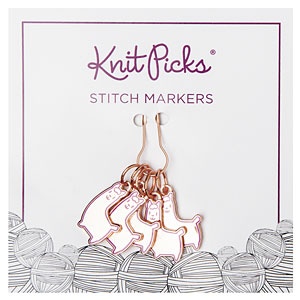 Alpaca Andie Stitch Markers | KnitPicks.com
This was the first time I had knit cables, and it's not all that hard. I sure do like the finished project!
If you need some help with cables, check out How to Cable for Beginners.
ALPACA POM POMS, TEDDY BEARS TOO!
An Alpaca Pom Pom tops off this hat! Why make a pom pom out of yarn or faux fur when you can have alpaca!
To ease your mind, alpacas are not killed for their fur. These Alpaca Pom Poms, our Alpaca Fuzz Ball Key Chains, our Alpaca Teddy Bears and Alpacas are made from the fur of alpacas which have unfortunately died through natural causes. Rather than waste such luxurious fiber, alpaca pelts are purchased from indigenous farmers who receive a monetary return on the loss of income caused by the death of one of the herd.
If you choose to remove the pom pom for whatever reason, you can just untie the bow that's been tied around the button on the inside of the hat. Easy peasy!
PATTERN
If you missed the link for the Dark Knit Cable Hat Pattern at the top of this page, here it is again.
For more patterns made with Snuggle Yarn, click here.
I do a small amount of affiliate marketing, and there are several links in this post that lead to products that I don't sell, but I do receive a small percentage of the sale should you purchase those items. I thank you, especially during these difficult times!
Want to learn more about knitting cables?  Check out this online class from Craftsy.