This darling hat is crocheted with a bulky alpaca yarn, and is top down, in-the-round, with triple crochet post stitches, and ribbed sides creating oodles of texture.  It is topped off with a very striking twisted cables accent that holds the flipped-up-on-one-side edge in place.  You'll be styling with this iconic bell shaped cloche hat that is reminiscent of hat styles from the 1920's.  The word cloche is actually a French term meaning bell, and these hats were so named because they resembled large bells.  Cloches from days gone by were close-fitting, helmet-shaped hats that hugged the skull, had deep rounded crowns with no brim or just a small curve at the edge.
The Free Pattern of this contemporary style cloche is by J. Parisi on Ravelry.
Yarn
The pattern calls for a bulky yarn so I have chosen our Snuggle Yarn, a color called Pack of Purples.  I used about 130 yards, so you'll need to get into a second skein of the Snuggle.  I found that this yarn was a little thick to obtain the correct gauge, so revised the pattern in order to make a hat that would fit.
A worsted weight yarn might work just fine with the original pattern.  Take a look at our Espiral Yarn for a worsted weight yarn.  Our new Farm Yarns made from the fiber of our own alpacas at Alpaca Meadows, are also worsted weight.
Supplies Needed
The pattern calls for a Crochet Hook size I-9 (5.5mm).  You'll need a Stitch Marker, Yarn Needle for weaving in ends, and pair of Scissors, if you don't already have those items.
I do a small amount of affiliate marketing, and there are several links in this post that lead to products that we don't sell at Alpaca Meadows, but we do receive a small percentage of the sale should you purchase those items.  Every little bit helps pay the bills, so thank you in advance!
I had so much fun with the pattern, that I made two hats! For the second hat, I used a solid color in the same Snuggle yarn line, this one is called Happy … love the name, don't you?   The crown of this hat is worked from the top down without turning. The hat body is worked in a spiral manner until the desired height is achieved. Lastly, a side twist is added that covers the spiral shaping.
Stitches Used
ch = chain
beg = beginning
rnd = round
sc = single crochet
dc = double crochet
st = stitch(es)
sl st – slip stitch
fpdc = front post double crochet
bpdc = back post double crochet
bptc = back post treble crochet
flsc = front loop single crochet
blsc = back loop single crochet
For help with any of the stitches used in this pattern, click the links.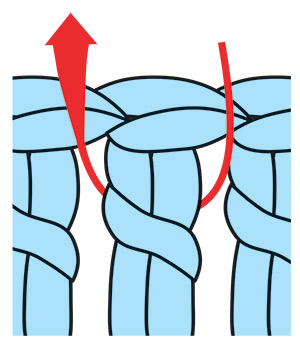 The front post double crochet creates a stitch that's raised up from the fabric.   For this stitch, yarn over and insert your hook from the front of your work.  Insert the hook from right to left around the post of the next stitch.  The diagram above shows the direction your hook should go for a front post stitch.  Yarn over and pull through the first two loops.  Yarn over again and pull through the remaining two loops.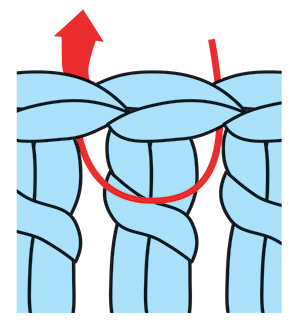 To work the back post double crochet, yarn over, reaching over the top of piece and working on opposite or right side of the work, insert the hook from right to left around vertical post of next stitch, yarn over and draw loop through, (yarn over, draw through 2 loops on hook) twice.
The front post treble crochet and the back post treble crochet are done in the same manner as shown above.  The difference is you will be crocheting a treble crochet, also known as triple crochet, instead of double.
Here's a video to help you.
MEASUREMENTS

20″ in Circumference and 8″ in Height
DIRECTIONS
Crown
Ch 4, join with sl st to first ch to make a ring.
Rnd 1: 10 sc in chain loop, join with sl st to beg of rnd. Place st marker to mark beg of rnd. Move st marker up as each row progresses (10 sc)
Rnd 2: 2 dc in same st as join, *2 dc in each sc* around, do not join (20 dc)
Rnd 3: dc in next dc, 2 dc in next dc, continue around, do not join (30 dc)
Rnd 4: dc in each of the next 2 dc, 2 dc in next dc, continue around, do not join (40 dc)
Rnd 5: dc in each of the next 3 dc, 2 dc in next dc, continue around, do not join (50 dc)
Ribbing
Rnd 7: bpdc in each st, around (correction made from dc to bpdc Nov 2011)
Rnd 8: bptc in each dc, around
Rnd 9-14: repeat row 8
For longer length hat, repeat rnd 8 until desired length is achieved.
Finishing: Join last st to beg of last round, finish off. Weave in ends
Twisted Cable Straps
Make two – 5″ x 2″ straps
Ch 18
Row 1: sc across
Row 2: (wrong side) flsc across
Row 3: blsc, across
Repeat rows 2 & 3 until work measures 2″ wide. Finish off leaving a 8″ tail.
Finishing
Fold bottom edge on one side of hat up 2″ and using tapestry needle and extra yarn secure in place with
a few stitches. Making sure the strap will be laying flat and facing right side out when laying against the
hat, attach the two straps side by side to bottom edge of fold with the 8″ tail.
 Twist the two ribbed strips together 3x making sure
they are laying flat against the hat, anchor edges in place with a few stitches, then using tapestry needle
and leftover yarn, secure each strap to the top of the ribbing at the base of the crown.
Weave in all ends on hat, using tapestry needle
I am guilty of not swatching like I should, but I do try hats on frequently while making them.  The original pattern with our Snuggle yarn turned out too large, could have saved myself some trouble had I made a swatch, so I have tweaked the pattern to make it work with this yarn.
Prefer to Knit?
There is a knitting pattern for this hat too!  Find it here.
Purchase Hat?
Perhaps you'd just rather purchase this hat?  It's available here, and can be custom made in the color of your choice!  The picture below shows Snuggle Hand-Dye Yarn.  For fun solid colors, see Snuggle Yarn.
If you're looking for stitches that make your crochet pop, Post Stitches Are the Key to Crocheted Texture!
Need some help with hats crocheted in the round?  Check out this Craftsy online class!