Granny squares are a great way to use up yarn in your stash. Grannies are simple and versatile with lots of different motifs available, and there are many creative ways to use these colorful squares.
This pattern for Granny Square Fingerless Gloves, designed by Clare Webb from the Truly Crochet website, is as simple as crocheting a square to fit around your hand, seaming the square together on one side, and leaving a hole for your thumb. That's it! It's a pattern perfect for beginning crocheters and it looks good in many different color combinations.
ASTRAL YARN
The yarn I used is called Astral, DK-weight yarn from the Alpaca Yarn Company that is 30% Alpaca, 20% Wool, and 50% Tencel. It's available in our Online Store and in the Farm Store at Alpaca Meadows. The Alpaca/Merino wool blend in this yarn creates body and softness, while the Tencel produces a lovely drape as well as adding durability and strength. It's a luxurious, feel good yarn … nice to work with and especially nice to wear.
The colors I chose for this project are called Shooting Star, Virgo, and Pisces (pictured above from left to right). This yarn is available in 20 different colors at this time, so there is lots of room for creativity in choosing other color combinations!
SUPPLIES NEEDED
A granny square can be crocheted using any type of yarn and any size crochet hook.
Since the Astral Yarn is a DK Weight yarn and I tend to crochet loosely, I used a Crochet Hook size G-6 (4mm) for this project. You'll need a Yarn Needle for weaving in ends, and a pair of Scissors, if you don't already have those items.
I do a small amount of affiliate marketing, and there are several links in this post that lead to products that we don't sell at Alpaca Meadows, but we do receive a small percentage of the sale should you purchase those items. Every little bit helps pay the bills, so thank you in advance!
STITCHES USED
ch = chain
sl st – slip stitch
dc = double crochet

NOTES
If you need your granny square fingerless gloves to be larger, just crochet another round of sc, hdc, or dc, working 3sts in each corner space until you get the desired size. Wrap the square around your hand to see if it will fit (the opening will be by your thumb) and crochet additional rounds as needed.
Once you are happy with the fit of the square you've made, fasten off the yarn leaving a long tail for seaming the edges together.
GLOVE MEASUREMENTS
I didn't realize until I had finished that I had only crocheted seven rounds, rather than eight like the pattern instructs. I added two rows of dc on both ends after seaming the gloves to obtain the length I wanted. Finished measurements are 10″ in length and 7″ in circumference. Of course, your measurements may be different.
I made a hat to match, and will post that pattern soon!
PATTERN
Click Granny Square Fingerless Gloves for the Free pattern. For more patterns with Astral yarn, click here. More Fingerless Gloves patterns here.
.
MORE HELP WITH GRANNIES
I gathered up a few more resources for Granny Squares that you may find helpful.
How to Crochet Granny Squares And Bring Back Old-School Cool
Pretty Ways to Polish Off a Granny Square
4 Wild Ways to Start a Granny Square
How to Crochet a Contemporary Granny Square
Not Your Grandma's Granny Square Crochet Patterns
11 Amazing Granny Square Patterns
How to Block Granny Squares So They Look Flawless
ONLINE GRANNY CLASS
You might be interested in an Online Crochet Class available on the Craftsy website. The description of the class follows:
Tackle the iconic granny stitch and granny square as you create a stylish hooded vest. Build on your crochet skills while learning one of the most iconic crochet stitches! Expert Tamara Kelly teaches you better crochet techniques while working through granny stitches and squares. Discover how to expand this classic stitch into many versatile shapes and join motifs for one-of-a-kind creations. Then, apply all the things you've learned in class as you work a deceptively simple garment.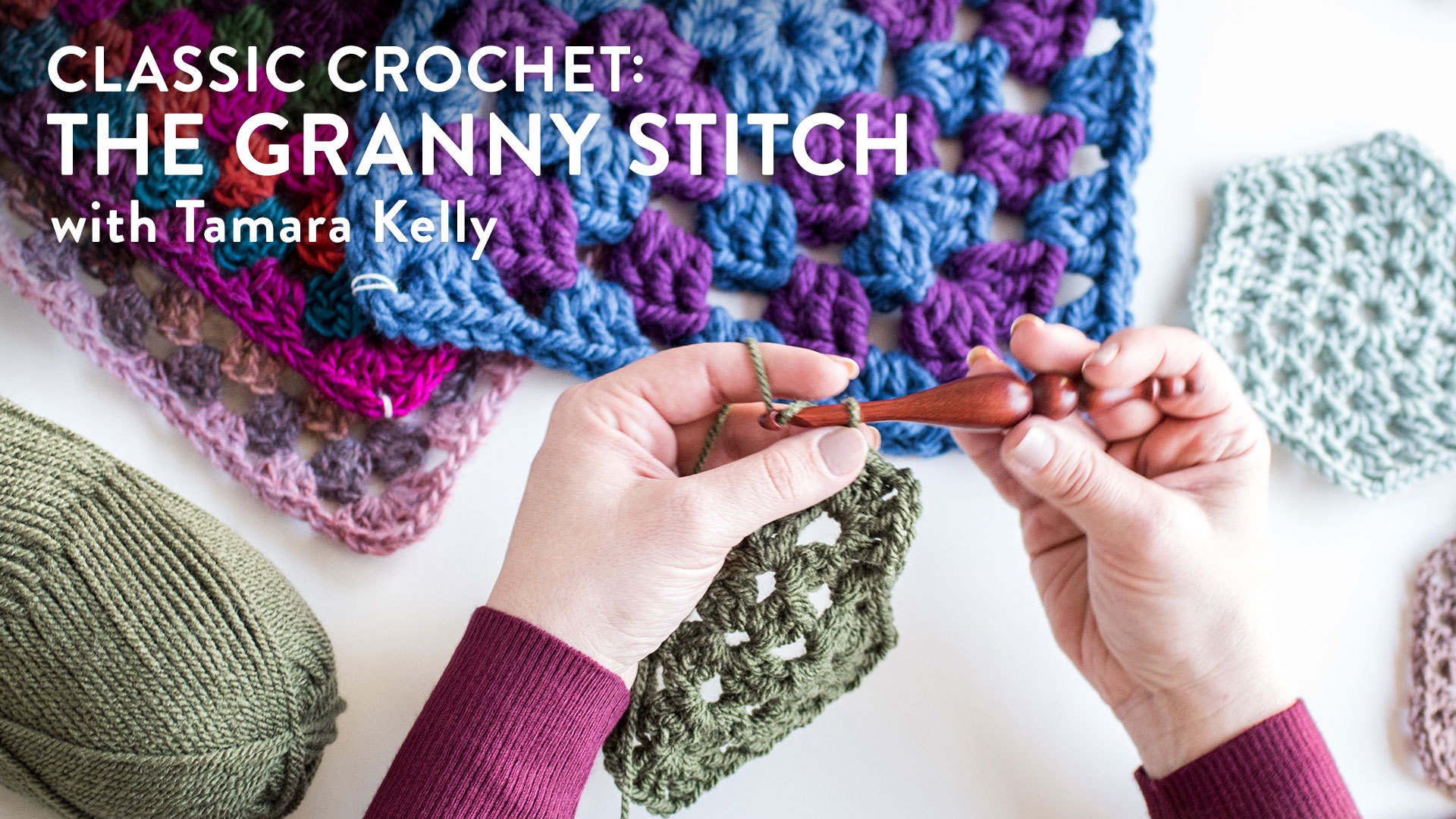 Classic Crochet: The Granny Stitch
from: Craftsy
BUY NOW
Granny Square Fingerless Gloves and the matching Astral Hat with Flower are available to purchase in our Online Store!