It started with some lovely handpainted bamboo rovings from Spinup Yarns on Etsy.
I had never spun bamboo before and found it delightfully silky!
I loved the colors that Andrea used!  Do check out her Etsy shop, she offers some interesting fibers in addition to bamboo, such as tencel, banana rovings and tangles, hand-dyed fabric strips, hand-dyed merino fleece, hand-painted staple and nepps that can be blended into batts, spun into art yarns, and embedded into felt pieces.
This is the bamboo spun into a single ply…
… and the dark brown alpaca roving I used to spin into another single ply.
It is not nearly such a fun color, but very soft and a dream to spin!
The fiber was from a beautiful girl named Gramac's Haute Coco!  Her fleece is very dark brown, almost black!
I plied the two singles together…
and this is the yarn!
It is both silky and soft and I've called the yarn, "Songbird".  It is a worsted weight at about 14 wraps per inch and 196 yards.  I'd love to see it made up into something.  Any takers?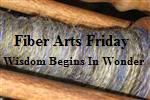 I participate in Fiber Arts Friday!  Be sure to click on Wisdom Begins in Wonder to see what other fiber artists have been up to this week…