Nervous as I might have been about whether I am teacher material or not, the first of our Fiber Art Classes here at our NEW farm and fiber studio, was a fun one!
Everyone seemed to have a good time …
… learned something new …
… and went away with some completed, needle felted Christmas items!
Needle felting with a cookie cutter is a fun, and easy way to create flat shapes that can then be used for embellishments on other felted projects such as a journal cover or purse, or sewing projects, or onto a sweater, T-shirt or a jean jacket.
They could be used to make a necklace, a pair of earrings, or a key chain.  Attach a ribbon or embroidery floss and hang them on your Christmas tree, or give as a gift, or use as a decoration on packages.
Using a cookie cutter saves you from having to create a template for your shapes. It is an easy way to guide your needle while you felt.  There are felting molds on the market created specifically for needle felting, but if you have a variety of cookie cutters stored away you might as well try your hand at cookie cutter felting. The molds that you purchase are made of plastic, so if you have plastic cookie cutters try those first, if your cookie cutters are metal, take care near the edges so as not to break your felting needle.
Step-by-Step Directions
Place the cookie cutter on the foam work surface.
Lay roving inside the cutter so it fills the total shape. You can make a thicker shape by utilizing more roving, or a thinner shape by utilizing less roving.  Be sure you don't have empty spots.
With the cookie cutter in place, use the felting needle and begin jabbing the fiber, paying particular focus to edges and points. Be sure to hold the needle straight up and down, or it may break, and keep your fingers out of the way.  These needles are extremely sharp!   Felting sticks, or chopsticks from your favorite Japanese restaurant, are very helpful to hold the fiber down while you poke.  You will poke your fingers less by getting used to using these.
Turn the felt over occasionally so it does not stick to the foam.
You will see the fibers gradually compressing into felt.
If any areas are too thin, add more roving and continue felting that region with the needle until the new roving is blended in.
Continue felting with the needle until it holds together and becomes firm.  The degree of firmness is determined by how long you felt the piece.  The more you felt, the firmer it will be.
Remove the cookie cutter and gently detach the felted shape from the foam.
If the edges look ragged, felt around the edges until the shape looks smooth and finished.
Your shape is now ready to attach to any project. You can also add embellishments, or embroider your shape with embroidery floss, beads, sequins, or charms.
Below were the books I had in class that had lots of great ideas in them.
We also covered how to felt a ball, and make it into a flower.
For larger balls, stuff a panty hose with loose fiber or batting, tie it at the top and cut off the excess hose.
Wrap the ball with rovings, overlapping, and wrapping different directions making sure to cover all bare spots and tacking in place with your felting needle as you go.  Decorate with colored rovings, and other bits of fiber or yarn.  Begin the felting process as described above.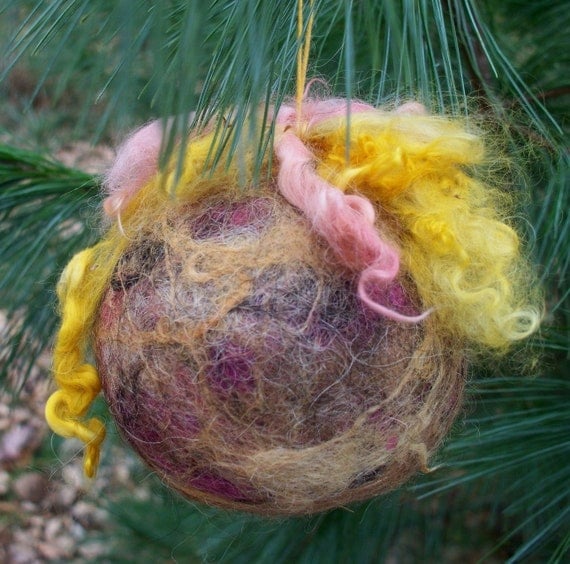 I
Be sure to see our Alpaca Wool Roving Sampler in Christmas colors!