The Alpaca Yarn Company has launched a new program, and will be introducing a Limited Edition YARN OF THE MONTH!  The first yarn is from the Suri Elegance yarn line and is called "Curiosity Cabinet".  It is a beautiful yarn with deep, rich tones!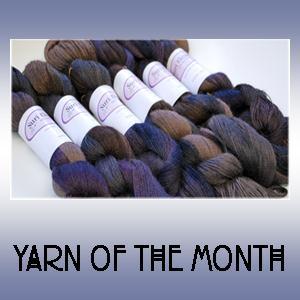 Suri Elegance is an elegant, lustrous, lace-weight yarn made of 100% Suri Alpaca. Each 3.5 ounce (100g) skein has approximately 875 yards and is perfect for lace projects.  The manufacturer's suggested gauge for lace knitting is 7 stitches per inch using US#3 (3.25 mm) needles.
The Suri Alpaca is the rarer of the two types of alpacas. A suri in full fleece is absolutely breathtaking, with its locks of fiber blowing in the breeze. Draping locks are what characterize these elegant animals. The fiber grows vertically and hangs down their sides. It is straight and has a slick, silky feel.  It has a high degree of sheen, often referred to as luster.
The alpaca pictured above is a Grand Champion named Matterhorn and he resides at our farm!
If you order Curiosity Cabinet during the month of April, you will receive a FREE downloadable pattern of either Bouvardia (knitting pattern) or Mithril (crochet pattern).  Just send me an email and let me know which one you'd like!
Helpful TIPS on knitting lace can be found here:
Majoring in Lace: Introduction
Majoring in Lace – Part II