Another class turns out to be good, clean fun!
Chris Vannatta and Jennifer Kamm, mother and daughter, spent the afternoon together at Alpaca Meadows learning how to wet felt alpaca mittens!
They started with a pile of fiber, and in just several hours, each had made a pair of mittens!
In my classes, we make one mitten at a time.  The challenge in doing it this way is making the second mitten look like the first.  Still one mitten at a time seems best when learning; but, it is quite easy to do two mittens at a time.  Here is a tutorial with great pictures that shows how:
Wet Felted Mittens – Two At A Time
Some of the felted mittens I've made ended up too short, so I hand-stitched on crocheted cuffs.  This gives a snugger cuff that comes down on my arm farther.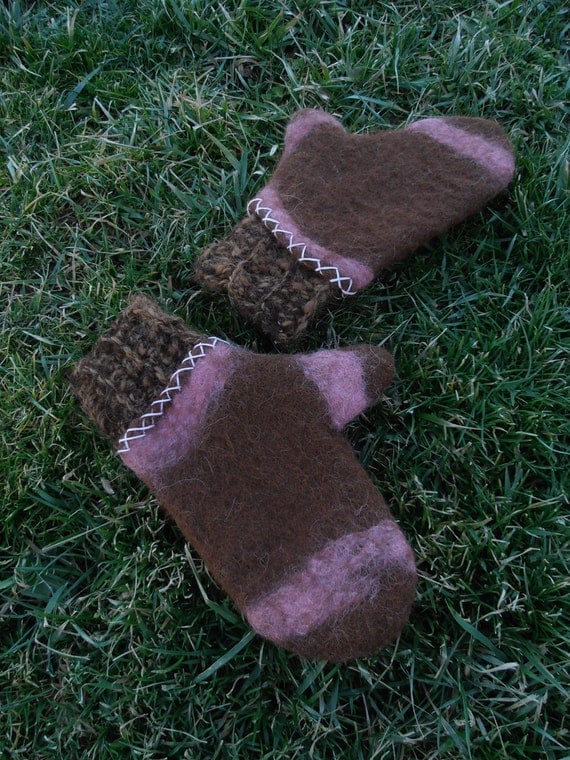 Directions for Crocheting A Cuff are below:
I think I used about a Size G Hook, depends on the yarn you are using.   You can alter the number of  stitches depending on how long of a cuff you want, and adjust the number of rows depending on the width of your mitten across the bottom.
Ch 10.
Note: For rows 1 through 22 in wrist ribbing, sc in back loop only.
Row 1: Sc in 2nd ch from hook, sc in each ch across, ch 1, turn. 9 sc.
Rows 2 – 22: Sc in each sc across, ch 1, turn.
Row 23: Bring row 1 to meet row 22, matching stitches. Sl st row 1 and row 22 together. 11 ridges made.
Cut yarn. Turn cuff inside out (so sl st edge is inside) and turn cuff so the ridges are running vertically, attach yarn with sl st in the side of the 1st sc in row 1.
If you'd rather knit, here are some directions for you:
Knitting a Cuff for Felted Mittens
Having just two students gave me time to felt a pair of mittens too!
Find out more about Wet Felting Alpaca Mittens!