I spin and sell lots of art yarn, especially Suri Art Yarn that I've spun right from the locks, for a very textured, thick-n-thin, over spun yarn that has lots of bounce and well, is just fun!
Finally I got some of it made into something!
I like combining textures and colors, just makes projects more interesting, so that is what I did in this hat!
The crochet pattern is a FREE download from Ravelry, and is one I use over and over just changing the hook size depending on the thickness of my yarn.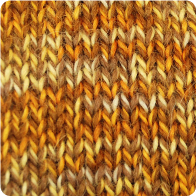 I alternated it with some Swizzle yarn from The Alpaca Yarn Company, and available right here, just click the links.  This yarn is hand-painted and is 100% alpaca, the color is Goldenrod, and it is oh so soft …
… and Astral Yarn, color Aquarius.  It is a blend of alpaca, wool, and tencel and has a lovely sheen to it!
The hat is for sale here at the farm, or in our online store.  Click here.  I'm working on a pair of matching fingerless gloves, coming soon!