Alpaca … warmer than wool, softer than cashmere!
Alpaca Soap Felting Kit
AMDWS-101005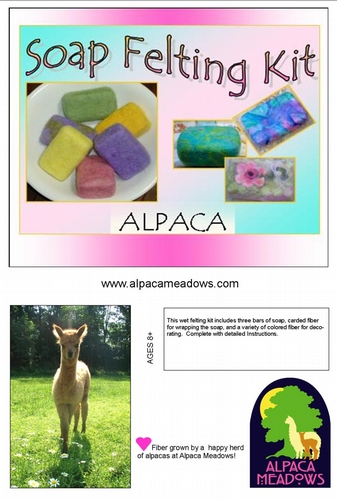 Felted ALPACA Soap has its own soft wash cloth built in! This soap lasts longer, it won't crack when it dries out, and the soap scum that soap normally sits in is eliminated. Plus, the felt gently exfoliates your skin as you wash. When the soap is gone slit the felt open at the top, replace with your choice of soap, and stitch closed.
This felting kit includes three bars of soap, carded fiber for wrapping the soap, and a variety of colored fiber for decorating. Complete with detailed Instructions.

Fiber grown by a happy herd of alpacas at Alpaca Meadows!
Live nearby and interested in taking a Soap Felting Class? Click here.